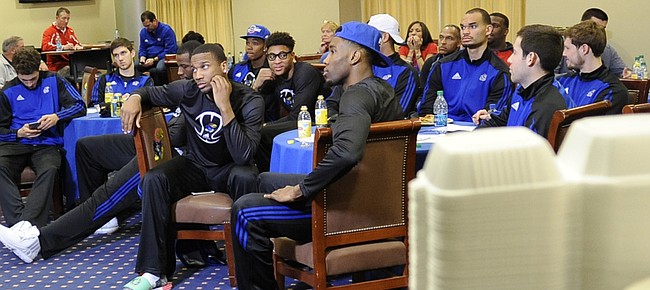 The uncertainty is over. As the prevalent pre-March Madness speculation presumed, Kansas University's basketball team earned a No. 2 seed and will open the 2015 NCAA Tournament in Omaha, Nebraska.
The Jayhawks (26-8) learned on Sunday evening's Selection Show they will face No. 15 seed New Mexico State (23-10) at 11:15 a.m. on Friday, while competing in the Midwest region.
KU's pod also includes a first-round matchup between No. 7 seed — and fellow Sunflower State power — Wichita State and No. 10 seed Indiana.
The No. 1 seed in the Midwest region is undefeated Kentucky, the undisputed tournament favorite.
— The Midwest —
No. 1 Kentucky vs. Manhattan/Hampton

No. 8 Cincinnati vs. No. 9 Purdue

No. 5 West Virginia vs. No. 12 Buffalo

No. 4 Maryland vs. No. 13 Valparaiso

No. 6 Butler vs. No. 11 Texas

No. 3 Notre Dame vs. No. 14 Northeastern

No. 7 Wichita State vs. No. 10 Indiana

No. 2 Kansas vs. No. 15 New Mexico State
— NEW MEXICO STATE AT A GLANCE —
Mascot: Aggies
Location: Las Cruces, New Mexico
Conference: WAC
Colors: Crimson and White
Coach: Marvin Menzies, 8th season at NMSU
Bid: Automatic via WAC Tournament title
• Leading scorers: 6-8, Sr. F Remi Barry (13.3), 6-9, RS-Fr. F Pascal Siakam (13.0), 6-2, Sr. G Daniel Mullings (12.6) and 6-10, Sr. C Tshilidzi Nephawe (10.4).
• Leading rebounders: Pascal Siakam (7.7), Tshilidzi Nephawe (7.6) and Daniel Mullings (5.0).
• Leading passers: 6-0, Soph. G Ian Baker (2.8), 6-2, Sr. G DK Eldridge (2.2) and Daniel Mullings (2.8 in 21 games).
Marvin Menzies - WAC coach of the year
Pascal Siakam - WAC freshman of the year, all-WAC first team, WAC all-defensive team; WAC all-newcomer team
Daniel Mullings - WAC first team; WAC all-defensive team
Tshilidzi Nephawe - WAC Tourney MVP; all-WAC second team
Remi Barry - WAC All-Tournament team, all-WAC second team
— Check back in at KUsports.com for more throughout the evening.