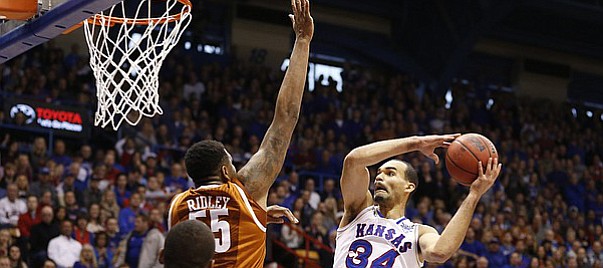 Kansas University junior forward Perry Ellis, who was given the OK to practice on Tuesday by KU's team doctors, remains questionable for Thursday's Big 12 tournament quarterfinal game against Kansas State or TCU.
Ellis suffered a right knee sprain in the first half of the KU-West Virginia game on March 3 and sat out Saturday's loss at Oklahoma.
"Perry Ellis has been cleared to practice as tolerated," KU coach Bill Self said after Tuesday's practice. "Perry was evaluated today and the doctors feel that he is right on schedule. He did some basketball activity on Monday. He practiced today, but is still on a limited basis.
"We're going to wait until tomorrow (today) to see how he feels. If he feels better, then he'll progress and hopefully practice the entire practice tomorrow. It will still be a game-day decision on whether or not he plays, but he is progressing nicely."
KU's quarterfinal game in the tourney Thursday in KC's Sprint Center will tip 30 minutes after an 11:30 a.m., contest between West Virginia and Baylor. The official schedule lists starting time at 1:30 p.m., but obviously it will be a bit later than that.
More honors: KU's Ellis on Tuesday was named to the United States Basketball Writers Assn.'s 10-player all-District Six team. Others: Ron Baker, Wichita State; Phil Forte, Oklahoma State; Buddy Hield, Oklahoma; Monte Morris, Iowa State; Le'Bryan Nash, OSU; Georges Niang, ISU; Seth Tuttle, Northern Iowa; Fred Van Vleet, WSU; Aaron White, Iowa. Tuttle was player of the year and Northern Iowa's Ben Jacobson coach of the year.
Home in KC: The Big 12 tournament opens with two games tonight. Kansas State will meet TCU at 6 p.m., with Texas-Texas Tech to follow 30 minutes after the conclusion of that contest.
This marks the sixth consecutive year the event will be held in KC's Sprint Center. The 2016 tourney also is slated to be held in KC.
"Oh yes, the Big 12 tournament should stay in Kansas City," KU's Self said. "You can make a case for moving the football around, but I don't know if the football will move from the Dallas area because you've got the Oklahoma schools that are probably happy with that and the Texas schools that are happy with that, but the basketball, I don't see how you can make a play where it's a better situation than what we have here, and that's not because we're 50 minutes from there. It's because it's the best.
"I thought Oklahoma City did a nice job when it was down there a couple times (2009, 2007), but I think all coaches would agree that you're guaranteed sellouts every game (in KC). It's unbelievable."
KU has won three of the past five titles.
"You look at conference tournaments across America, the first-round games, like the Thursday games for us, could be Friday games for somebody else, half the seats will be empty or two thirds of them will be empty. It won't be like that in our situation," Self said.
"It may hurt a little bit that us and K-State are on the same side (of bracket), but you've got Iowa State on the other side and they draw as well as anybody. It's great, and I don't think there's any coach that would disagree with it being great. Fred (Hoiberg, ISU coach) would rather it be in Des Moines and Lon (Kruger, Oklahoma coach) would rather be in Oklahoma City, but this is probably the best place for it I would think."
Thursday's schedule: Baylor v. West Virginia, 11:30 a.m.; KU vs. TCU or Kansas State, 1:30 p.m.; Iowa State vs. Texas or Texas Tech, 6 p.m.; Oklahoma vs. Oklahoma State, 8 p.m.
Friday's schedule: Baylor/West Virginia winner vs. KU-TCU/KSU winner, 6 p.m.; ISU-Texas Texas Tech winner vs. OU-OSU winner, 8 p.m.
Saturday's final: 5 p.m.
"I hope it's a three-day grind," Self said of KU's participation in the three-day tourney. "We've got good players. We're relatively deep. We could go win three or we could basically go home sad Thursday. I think there's about 10 other teams who could say the same thing going into the tournament. It'll be a great tournament, as competitive as it has ever been.
"There's no clear-cut favorite.. If we play like we're capable of playing and can make other people play poorly, I like our chances."
Of the tournament, KU sophomore Wayne Selden Jr., said: "I feel it will be high competition. Everybody is going to bring their A-game in that situation. I have a lot of confidence in my team. I feel we have all the tools to do so," he added of making a run for the title in the Big 12 tourney.
Bragg honored: Future KU forward Carlton Bragg was named honorable mention Naismith Basketball All-America on Tuesday. Bragg, a 6-9 power forward from Villa Angela St. Joseph High in Cleveland, is ranked No. 15 nationally in the recruiting Class of 2015 by Rivals.com.