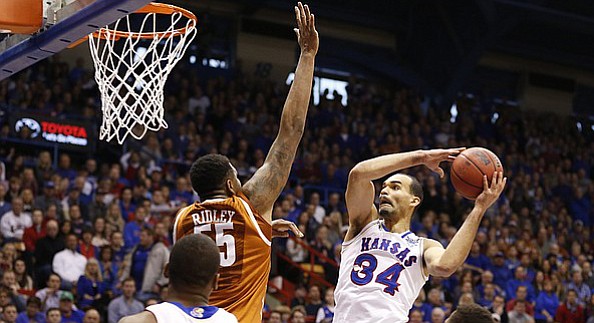 Kansas University's Perry Ellis and Oklahoma's Buddy Hield, who are arguably the top two contenders for 2015 Big 12 Player of the Year, will not guard each other in any epic one-on-one confrontation Saturday at Noble Center in Norman, Oklahoma.
Ellis, who is a former AAU teammate of Hield, will, in fact, miss the 3 p.m., contest because of a sprained right knee.
"He's not going to play this Saturday," KU coach Bill Self told the Journal-World on Wednesday, a day after Ellis sprained his right knee in the first half of KU's 76-69 overtime victory over West Virginia in Allen Fieldhouse.
"He's going to be sore here for a few days. Hopefully he'll be able to respond to treatment and be back out there next week. That's what we're hopeful for," Self added of Ellis returning for the Big 12 tournament, which for KU starts a week from today in Kansas City's Sprint Center.
"The doctors said, that's too quick," Self added of Ellis playing on Saturday. "Of course, with the tournament coming up, our best chance to have him healthy is to let him get some rest and just rehab."
Self did stress that Ellis has suffered no structural damage in his knee.
As far as the conference Player of the Year battle ... the 6-foot-8 Ellis averages 14.2 points off 47.1 percent shooting, and 7.0 rebounds a game in 30 games. The 6-4 Hield averages 17.3 points off 43.1 percent shooting with 5.4 boards in 29 games.
In league games only, Hield averages 18.5 points off 44.9 percent shooting and 5.7 rebounds to Ellis' 15.1 points off 50 percent shooting and 7.2 boards.
"I was definitely concerned. He's our best player. He's our go-to guy. We're going to need him," KU forward Jamari Traylor said of his thoughts when Ellis left Tuesday's game late in the first half. "I just knew guys would have to step up if he was out. I wanted to be a little more vocal. I wanted to tell guys, 'We're still in it,' and everything," added Traylor, who finished with 14 points and nine rebounds. He had six of KU's 17 points in overtime.
"Jamari was the best player in the game for us," Self said. "He looked like the old Jamari. He's been laboring a month or so. He had energy, made great athletic plays. We got eight offensive rebounds. He had six of them. I thought Hunter (Mickelson, eight points, three steals, two blocks) played great. Landen (Lucas, six rebounds, two blocks) played great. They all stepped up and played big considering two starters were out — Perry being hurt and Cliff (Alexander) didn't play."
Meanwhile, Wayne Selden Jr., who sprained an ankle in the second half, should definitely be available for the Oklahoma game. Selden returned to the locker room to get his ankle re-taped after going down vs. West Virginia.
No news on Cliff: The Chicago Sun-Times' Michael O'Brien tweeted on Wednesday, "Hearing it is possible Cliff Alexander may be cleared to play for Kansas this weekend. Also, expect him to stay at KU for another year."
While not commenting on the Tweet specifically, Self said Wednesday: "We were hoping they would be able to make a ruling pretty soon. It's still the same thing, day-to-day."
The NCAA is looking into an undisclosed issue regarding Alexander's eligibility.
Coach of year finalist: Self on Wednesday was named one of 15 finalists for the 2015 Naismith Coach of the Year Award. Self, who has been a finalist for that honor seven times, was Naismith Coach of the Year in 2012.
Other finalists: Baylor's Scott Drew, plus Tony Bennett (Virginia), Mike Brey (Notre Dame), John Calipari (Kentucky), Mark Few (Gonzaga), Chris Holtmann (Butler), Ben Jacobson (Northern Iowa), Larry Krystkowiak (Utah), Archie Miller (Dayton), Steve Prohm (Murray State), Bo Ryan (Wisconsin), Wayne Tinkle (Oregon State), Mark Turgeon (Maryland) and Jay Wright (Villanova).
On Twitter: KU's 11th-straight Big 12 title has been a popular topic on Twitter.
"Talk about DOMINANCE/what about the job Bill Self has done in Big 12 play/Rock Chalk Jayhawk faithful help them come back v. WVU," wrote ESPN's Dick Vitale.
"KU's 11th-straight Big 12 crown is one of the most remarkable streaks in all of sports," wrote Seth Davis of Sports Illustrated.
"I value league championships more than the randomness of NCAA results — to win 11 in a row, never having a down year is spectacular #kubball," wrote Doug Gottlieb of CBS sports.
"One for the toe: Kansas clinches at least a share of its 11th-straight Big 12 title. That's Wooden-esque," wrote Dennis Dodd of CBSsports.com.
"Congrats to Bill Self and Jayhawks on 11th Big12Conference title. Coaching, players and fans all play big part!" wrote ESPN's Fran Fraschilla.
"That's 11 in a row for the Jayhawks. And that's also ridiculous," wrote Myron Medcalf of ESPN.
"ELEVEN, congrats to them KU boys," wrote former KU guard Tyshawn Taylor, who is playing pro ball in Puerto Rico.
"Congrats to @KUHoops on yet another Big 12 title. #MoreRingsThanFingers," wrote Cole Aldrich of the New York Knicks.
"If you are persistent you will get it ... if you are consistent you will keep it #11 Straight #Big12champs #MoreRingsThanFingers," Tweeted former KU guard Tyrel Reed.
"Yup. Yup. Only people getting hurt are the other 9 teams in the conference and their fans," wrote former KU forward Mark Randall, including a picture of the 11 trophies sitting on a table at center court of Allen Fieldhouse following the KU-WVU game.