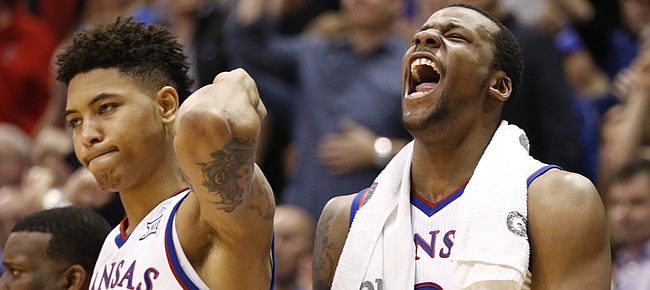 Kelly Oubre Jr., has made some bold, brash, entertaining statements in media interviews on his recent workout tour of various NBA cities preceding tonight's NBA Draft.
"I'm not a slouch. I'm going to be one of the greatest to ever play the game." Oubre, a 6-foot-7, 203-pound former Kansas University guard from New Orleans told the Indianapolis Star.
Oubre — he averaged 9.3 points and 5.0 rebounds a game his one season at KU — says the team that picks him — Indy's Pacers pick 11th — simply will not be sorry.
"I want to go top seven. It's definitely one of my goals," Oubre told Draftexpress.com. "They have great players in this draft, no knock to anybody but I feel I'm the hardest-working guy in this draft because I have a chip on my shoulder. I'm going to show everybody what they said I couldn't do. That's my main motivation."
ESPN.com's Chad Ford, who covers the draft year-round, has Oubre being selected No. 16 by Boston. ESPN's Jeff Goodman has Oubre being tapped No. 13 overall by Phoenix. It is believed Utah has interest at No. 12 and Oklahoma City at 14.
"I will not be denied. I'm relentless at everything I do," Oubre told Utah's Deseret News. "You could say stuff about me, but I'm going to prove you wrong 100 percent of the time. I'm just here with a smile on my face and a calm, cool demeanor because I know I'm going to be great one day."
Oubre, a player the Deseret News called the "nicest cocky guy in the draft," told that paper he's studied film of three NBA players he looks up to: Jimmy Butler, Kawhi Leonard and James Harden.
"I feel like I can be as good as or better than those guys," Oubre said. "Whoever calls my name on draft night, I'm going to help them win a championship and give them the best shot. That's why defense is so important to me, because I know I'm going to excel at the next level."
After hearing such comments, Deseret News reporter Jody Genessy wrote: "Oubre didn't mention becoming a Hall of Famer, but judging from his quotes after an impressive workout, it might've been simply due to a time restraint."
The most optimistic projection for Oubre has been No. 8. Detroit apparently is intrigued by his 7-foot-2 wingspan and desire to be a good defender.
"I've been relentless," Oubre told the Detroit Free Press. "I'm in the gym. I won't be stopped. That's my mindset.'"
Oubre told the Free Press he hired a shooting coach in an attempt to improve his 44.4 percent shooting stats at KU. He hit 35.8 percent of his threes.
"I feel like I'm a little more mature than the other freshmen. I can go into any setting and perform. I've had multiple adversities, through Kansas, through my life. I feel like I'm ready for whatever the NBA has for me," Oubre said.
One shouldn't get the impression Oubre has only been boasting about himself on his media tour. He told the Oklahoman he did not deserve more than the eight minutes a game he received in KU's first seven games.
"When I was sitting on the bench, it was because of my doing," Oubre told the Oklahoman. "It wasn't because somebody was slighting me. It didn't come as a surprise. But as I continued to watch guys around the country who were top recruits in high school thrive in their college systems, I kind of said 'No more of this for me.' So I just turned it up a notch and sat with coach and got over that hump. He was just trying to let me know that my defense was my offense. I can't just be a one-way player. Once that message got across to me, the sky was the limit from there. I took off," Oubre added.
The bottom line? "I'll fall where I fall," he told the Free Press. "I'd be blessed to fall here (Detroit at 8), but I've worked out for everybody I need to show my face to."
Alexander a second rounder?: Former KU forward Cliff Alexander enters the draft as somewhat of a mystery, generally regarded as a second-round pick. The 6-foot-9, 240-pounder with a 7-4 wingspan hurt his knee during a workout with the Lakers on June 2 and thus had to cancel some workouts for individual teams.
"Cliff's very athletic, very athletic and strong," Boston GM Danny Ainge told ESPN.com. "He can shoot a little better than you could see at Kansas."
Alexander averaged 7.1 points off team-best 56.6 percent shooting. He grabbed 5.3 rebounds per contest (17.3 minutes a game in 28 games), missing the last eight games because of an NCAA issue. He also had 37 blocked shots.
"I think we all know what happened. It's certainly not the end of the world. I don't think it reflects everything that Cliff is about," Ainge told ESPN.com, referring to the NCAA issue.
"I'm not (a bad) guy," Alexander told the Chicago Tribune. "I'm a great guy to be around. When I was at Kansas, it was just a struggle. I got dealt a bad deck of cards, that's all it was."
Alexander said he's been working on his shooting and "getting my timing better on blocking shots, moving my feet, getting my lateral movement going."
His strengths: "My high energy level," he said, "running the floor non-stop, grabbing every rebound. I have a lot to prove. I feel I have to get my name back out there more and redeem myself."
SLAM Magazine remains optimistic, recently writing that Alexander's "strong play in the month of January and the way he got his stats will make him a first-round pick. His chiseled 239-pound frame has shoulders that are nowhere near filling out and he has simply effortless explosiveness around the rim. The physical profile is there of an elite NBA big man, now it's just a matter of getting his skills to a similar level," SLAM Magazine added.
ESPN's Ford has Alexander being taken No. 14 in the second round by Phoenix.
Self's take on the Jayhawks in the draft: "The updates I have is Kelly has a great chance to go in the lottery, late lottery," Self said. "Everybody seems to be impressed with him that I talk to. Cliff obviously won't go that high but people I talk to say he's really tried hard, worked out well in his workouts. Time will tell how the dominoes fall, maybe he'll sneak into late first or go early second."
Self said Alexander, "can be a very good prototypical power-type power forward. I always thought he was a Buck Williams type when he was young, which is a huge compliment to Cliff. I know he's hungry and thirsty."
This, that: KU, which beat Canada, 91-83, in a World University Games exhibition on Tuesday in Sprint Center, will again tangle with Canada at 7 p.m., Friday, in Sprint Center. Self told the J-W that longtime broadcaster Max Falkenstien will serve as an honorary assistant coach and sit on the bench during the game. "Can you believe Max has never done that? He's going to sit on the bench and do it Friday," Self said. ... Tuesday's Sprint Center attendance was 8,235. With a similar crowd expected Friday, the Jayhawks figure to easily pay for their trip to South Korea, estimated at about $250,000. USA Basketball is not paying KU's expenses for the World University Games. ... Jamal Murray, a 6-4 point guard from Orangeville Prep in Ontario, on Wednesday chose Kentucky over Oregon. He's expected to be a first-round pick in the 2016 NBA Draft.