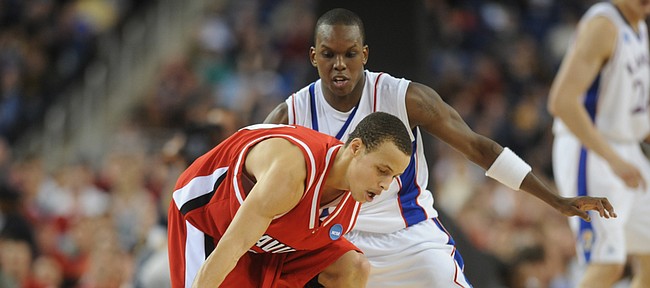 He won't hear "from New York! New York!" during the pregame introductions today because Russell Robinson comes off the bench for Stelmet Zielona Gora, which can clinch the Polish League championship with a victory in Game 6.
The Polish National team's starting backcourt also starts for Stelmet, ahead of Russell.
"I'm just doing my job, whenever they need, to help the team win," Robinson said by phone from Poland.
Of course he is. That's who he is. Robinson averages 9.8 points, 2.6 assists and 1.6 steals per game for Stelmet ZG, which holds a 3-2 advantage in its best-of-seven series vs. PGE Turow.
"If we can win, this will be my first championship since KU," Robinson said.
I reached out to Robinson to discuss a specific aspect of one game during that 2008 championship run. How, I asked Robinson, did the Jayhawks prevent Stephen Curry, reigning NBA MVP and one of two central figures in the NBA Finals, from beating them? How did they defend him?
Curry scored 25 points in KU's 59-57 victory vs. Davidson, but he needed 25 shots to make nine field goals. He made just four of 16 three-point shots, a testament to Kansas not giving him great looks.
"You try to stay as close to him as you can," Robinson said. "He was coming off a lot of screens, and his teammates were really, really trying to get him open. We had a good team, and he had to play some defense, too. That might have tired him out."
Robinson opened the game checking Curry, and, 10 minutes into the night, the Davidson guard had missed his first five shots and was scoreless.
How did Robinson do it?
"Just staying real close to him and forcing him to take some tough shots," Robinson said. "And we had some big players, Sasha (Kaun) and Darnell (Jackson) to hedge screens. It wasn't a cake walk for him."
Throughout the night, Robinson recalled, a few different players guarded Curry.
"I started out on him, and I did a pretty good job of not letting him get in rhythm," Robinson said. "Toward the end, B. (Brandon) Rush was guarding him to give him a different look. I think Mario (Chalmers) checked him a little. He didn't get off to a good start, and we bought ourselves some time. That helped us, I think."
As is always the case when Kansas slows down the opponent's top scorer, it was a team effort. Still, nobody played a bigger part than Russell in Curry's off night.
"I don't think his ball-handling was anywhere close to what it is now," Robinson said. "It's amazing. Amazing."
On that March 30 night seven years ago, so too was the opponent Davidson and five other schools faced in the NCAA tournament.
"I loved our defense," said Robinson, who will be in Lawrence on June 18 for the Rock Chalk Roundball Classic charity basketball game at Free State High. "I loved our transition. I loved the chemistry. The locker room was the best part. That was the best locker room I ever had. We had guys 1 through 17 pulling for each other. When that's happening, it's kind of hard to have a down day, kind of hard not to play as well as we did."