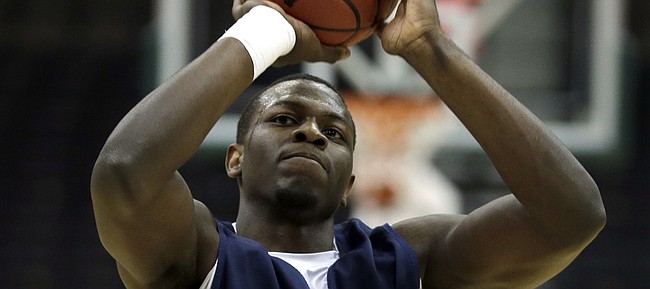 One of the brightest basketball minds in the Bahamas, Darrell Sears serves as head coach of the Bahamas Jaguars AAU program and St. George's High School as well as the country's 17 and Under Junior National Team.
Former coach of Oklahoma's Buddy Hield and LSU/Louisiana Tech's Magnum Rolle, Sears spends a lot of time tracking players and trends in Bahamas Basketball.
As such, Sears believes Kansas University's recent signing of 6-foot-9, 240-pound Ole Miss transfer Dwight Coleby classifies as a red-letter day for the island country.
"He's not only going to pave the way for opening the doors for many other Bahamian kids who aspire to play at the highest level, he is kind of at the highest level," Sears said in an interview with the Journal-World.
"I did my research. In the last 15, 20 years, no one has played for what I consider a Rolls-Royce college program. He's the first for our country and our (AAU) program."
Sears didn't specify what he means by a Rolls-Royce program, but the implication was schools such as KU, Duke, Kentucky, UCLA and North Carolina.
"Even Mychal Thompson, the No. 1 pick in 1978 (NBA Draft), he played at Minnesota," Sears said. "I've done some history on it. The closest we had to a kid playing at a Rolls-Royce program is Rick Fox (UNC). Technically, Rick was not born in the Bahamas. He went to school here. His dad is from here. He was born in Canada even though he went to high school here for a while, then finished in Indiana. In my opinion, Dwight is the first Bahamian-born to play at what I consider a Rolls-Royce program."
Sears also coached Hield, reigning Big 12 player of the year.
"Buddy has always been competitive, since he was a scrawny little kid back in the day," Sears said. "The only question we had about Buddy was, 'Is he ever going to grow?' He was always a small, little kid (now 6-4, 212)."
Both Coleby and Hield played on the Bahamas National Team last year and will represent the country at the Caribbean Basketball Federation tourney June 15-21 in Virgin Islands.
"What I do with my program in the Bahamas ... we get them developed to a certain stage and let them finish high school in the United States. We try to get them over there," Sears said. Hield finished at Sunrise Christian Academy in Wichita, Coleby at Piney Woods High in Mississippi, where he averaged 20 points, 15 rebounds and five blocks his senior year.
Sears was a big-time competitor himself. He was a nine-time track All-American in the long and triple jump at University of Central Missouri and is in the school's athletic hall of fame.
"Dwight did the high jump (as youth in track)," Sears said. "Kids in the Bahamas play soccer or compete in track and field. Basketball has taken off in the last 10 years."
Coleby averaged 5.4 points (off 53.2 percent shooting, 79.7 percent free throwing) and 4.8 rebounds in 16.5 minutes a game his sophomore season after averaging 2.4 points (off 47.1 percent shooting, 52.6 free throwing) and 1.9 rebounds his freshman campaign.
"I think he did fine (at Ole Miss). The first year he was there, he was injured. He should have probably red-shirted, but he didn't because he's a competitor," Sears said of Coleby, who out of high school was pursued by the likes of Memphis, Georgia, Arkansas and Georgetown.
"He played the second half of the season. Last year was his first year to me of playing real college ball because he had nagging injuries all the way through his freshman year. The coaches tried to encourage him to red-shirt. He didn't want to. He wanted to continue to play."
He likely will earn meaningful minutes in the upcoming Caribbean tourney.
"For him, we're hoping he doesn't play a lot of minutes, limited minutes, save his body and stuff," Sears said. "We want him to be nationally minded of course, but the prize he is looking at right now is going to be a little bit bigger in his future career."
He will practice but not play in games at KU next season in accordance with NCAA rules. Then he'll have two years of eligibility remaining starting in 2016-17.
"I don't know if he needs to gain any more weight. He's 240, solid muscle pretty much," Sears said. "He'll continue developing his skills, learning all he can from the coaches there and coach (Bill) Self. The classic high/low system Kansas runs is ideal for Dwight, ideal for him, ideal, ideal," Sears repeated for emphasis.
Coleby wants to go far in basketball.
"He has the mentality to do what coach Self and the program needs him to do, be a tough inside guy because that's what he is. He's a bruiser, a very physical kid, tough. He doesn't say a whole lot but he'll get there (in July) and work, work, work," Sears said.
More info on Dwight: Grandbahamassports.com asked Coleby to describe life as a student-athlete in college basketball: "It's so fast. You have to always be thinking. It's a lot of hard work when you go to college. It's a lot of training and work, so if you can't handle the workload you can't go to college. You think it's just playing ball and you'll be successful but, it's not. You have to bring your A game every time.
"5:30 a.m., I get up and lift weights. After weights, I go to eat, then head to class and tutors. After tutors, it's time for practice usually 2-3 hours depending on how we're practicing. After that it's usually late but, you have to do your homework for every class, then you have to go sleep to do it all over again."
Asked to identify a team he loved to play against, he said: "Playing against Kentucky Wildcats. It was a good experience, everyone was looking in your eyes and wanting to take your picture (at UK). I said, 'Wow, I'm really here.' Kentucky fans always treated us right."