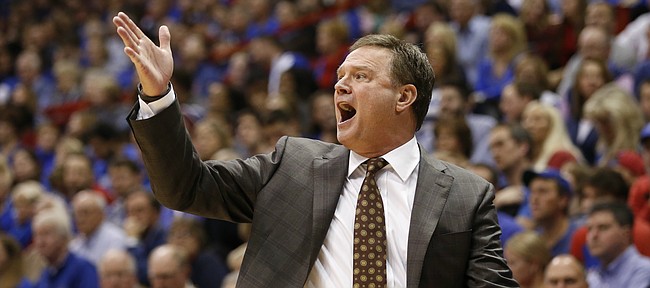 Bill and Cindy Self's Assists Foundation has assisted many individuals in the state of Kansas since its humble beginnings in 2006.
Assists, whose mission is "to help provide young people access to better lives ... accomplished by identifying areas of need and working with other community-based institutions to provide creative and lasting solutions," has provided four-year college scholarships to a minimum of five students annually (worth $10,000).
The foundation has contributed funds to Kansas Action for Healthy Kids, Lawrence Public Library, Boys and Girls Clubs of Lawrence, Kansas Youth Empowerment Academy, Ronald McDonald House Charities of Northeast Kansas and Head Start of Lawrence.
Assists also has created a program called "Winning Attitudes for Life" within the school system for elementary- through high school-aged students. The program promotes healthy living, physical fitness, positive well-being and self respect. It stresses leadership, team building, decision-making and communication skills.
Assists is such a far-reaching organization it has attracted the attention of the Naismith Memorial Basketball Hall of Fame.
In recognition of Self's work with Assists, the Hall has named KU's 12th-year coach one of three winners of this year's Mannie Jackson Humanitarian Award. The award will be presented to Self on official Hall of Fame induction weekend in Springfield, Massachusetts.
In other words ... Assists has become a big deal involving huge numbers of dollars.
"I don't know the exact dollar amount, but we've given out approximately $1.5 million through those years we've had the Basketball Boogie (biennial fundraiser)," Self said in an interview with the Journal-World.
"We've helped support several different entities in the area, the biggest being the Sports Pavilion Lawrence that opened this past year. We gave a million dollars to the Sports Pavilion which basically is serving between approximately 60,000 to 85,000 walking through its doors per month.
"We're excited about the things we've done and continue to be excited about the possibilities that are out there to continue doing some things moving forward. In order for that to happen," he continued, "we're having the Boogie, which is our chief way to raise funds through the support of so many people," he added.
The fifth "Bill's Basketball Boogie," is set for 7 p.m. until midnight a week from today at Abe and Jake's in Downtown Lawrence. Everybody is invited. Ticket and sponsorship information is available at basketballboogie.org.
"We think it's the party of the summer," he said of the event that includes food, drink and music and dancing. "Obviously the chief purpose to have the party is to raise money. The effect of it is it's also a way to have a good time. It's a way for people to have access to our program. We'll have all kinds of Jayhawk celebrities there, a silent auction in which people can purchase some very unique Jayhawk memorabilia."
One can embrace the concept of the Boogie and come dressed in 1970s disco attire. One should not be scared away by the prospect of wearing such attire.
"You can come as you are," Self said. "Definitely come as you are or come dressed in your 70s disco outfit that is still hanging in your closet."