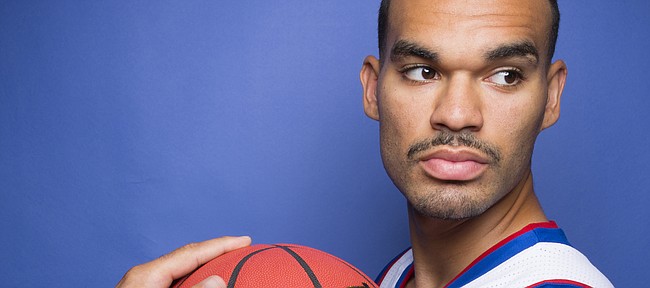 Ever the student of Kansas University basketball history and the lead teacher of the school's basketball team, Bill Self rattled off what Perry Ellis' decision to return for his senior year could mean for the versatile power forward's standing in school history.
"He has a chance to be a top-10 scorer, and I'd assume high in the rebound ranks," Self said the night of the annual banquet. "He will be at least a two-time, first-team all-league player. He is going to graduate."
Self kept going.
"Who knows if he can make an All-American team, maybe even get his jersey hung up there (from Allen Fieldhouse rafters) if that's the case," Self said. "There's still a lot to play for."
For one thing, Ellis hasn't tasted a Final Four. The four-time Kansas Gatorade Player of the Year was winning his fourth consecutive 6A state title for Wichita Heights when the Jayhawks stormed from behind to defeat Ohio State, 64-62, and then lost to Kentucky, 67-59, in New Orleans.
Ellis is a rarity in that he's a McDonald's All-American who both did not in any way disappoint the school that recruited him and stayed around for his senior season.
Ellis, guards Yogi Ferrell of Indiana, Buddy Hield of Oklahoma and North Carolina's Marcus Paige all make strong candidates for the Senior Class Award given annually. It might come as a surprise to now-Tennessee coach Rick Barnes if the Kansas forward wins it. Barnes has seen so much of Ellis' fancy footwork that after the forward dumped 28 points and 13 rebounds on the Longhorns, the coach repeatedly pointed to him as an example of what a senior can do for you.
That ended a three-game tear in which Ellis averaged 25 points. It came the game before Ellis suffered a knee injury that forced him to miss two games and play at a diminished level for the remainder of the season.
Ellis averaged 13.8 points and 6.9 rebounds as a junior. Provided Kansas can make it to the national-title game, Ellis won't need to improve those numbers by much in order to crack the top 10 in KU's career totals in points and rebounds. If he played 40 games and averaged 15 points, Ellis would finish with 1,757 points, pushing Kirk Hirich (1,753) into 11th on the all-time scoring list. An average of six boards a game would give him 852, knocking Scot Pollard (850) out of 10th place.
Getting to the Final Four would mean more to him, of course, but joining Danny Manning, Raef LaFrentz and Nick Collison as the only Jayhawks ranking in the top 10 in scoring and rebounding wouldn't be too shabby, either.