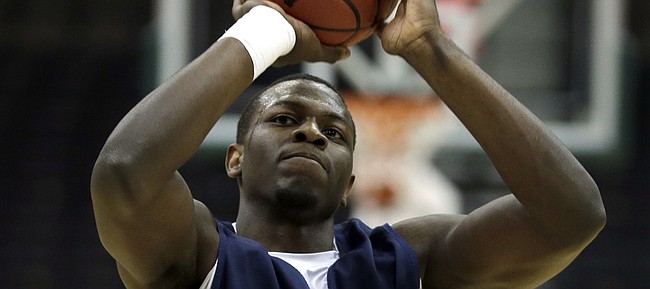 In theory and on paper, Kansas University's basketball team doesn't need any more big men for the upcoming 2015-16 season.
The following year is a different story altogether.
"We've been keeping an eye on transfers the entire spring due to the fact we lose so many big guys next year," Self said of 2015-16 KU senior forwards Perry Ellis, Jamari Traylor and Hunter Mickelson, who will be joined on the floor next season by junior Landen Lucas, plus freshmen McDonald's All-America bigs Cheick Diallo and Carlton Bragg.
"It would be nice to have a big guy in your program that knew the system and we can rely on to be a foundation," Self added.
That big guy is 6-foot-9, 240-pound former Ole Miss center Dwight Coleby, who signed grant-in-aid papers with KU on Sunday, his commitment announced by KU on Monday.
"When Dwight became available, we researched it and watched tape. He's exactly what I think we need," Self said of the player who averaged 5.4 points off 53.2 percent shooting and 4.8 boards his sophomore season. He'll practice but not play in games next season then be eligible to play in games in 2016-17.
"He's a big guy that can play either bigs position. He's active. He reminds me of a lot of a bigger Jamari- or Thomas Robinson-type body. He's got a great motor. I feel like he can play on the block. He can play facing. He can do a lot of different things. He's raw offensively, but he's a premiere athlete and should be a solid rebounder and defender right off the bat," Self added.
Coleby, who started three games, averaged 16.5 minutes a game in 34 games last season. He was second on the Ole Miss team with 29 blocked shots. He scored in double figures six times, his first career double-double a 12-point, 10-rebound outing at Arkansas.
"Dwight was obviously a contributor and role player for an NCAA Tournament team," Self said. "He didn't play a ton last year, but Ole Miss had good players. He hasn't been playing ball forever (growing up in Bahamas), but there is definitely a foundation there, physically. Also, a foundation from an intellect standpoint that is going to allow him to become a much better player fast. Without question, we think his best ball is well down the road. I see him being a Darnell Jackson. I see him being a bigger Jamari, a guy that can have a big impact on our program and hopefully mature and develop into a starter for us."
Coleby went to Ole Miss after attending Piney Woods High School in Piney Woods, Mississippi. He averaged 20 points, 15 rebounds and five blocked shots in 2012-13. Prior to Piney Woods, Coleby attended St. George's High School in Freeport, Bahamas.
Paschal Chukwu to visit: KU currently has filled its scholarship allotment at 13 for this season if 6-foot-5 Memphis high schooler LaGerald Vick, as expected, reclassifies to the Class of 2015. Former Providence center Paschal Chukwu, a 7-2, 225-pound freshman from Nigeria, plans to visit KU this week following his visit to Nebraska. He's also considering Michigan State, Virginia and Iona. Chukwu averaged 2.6 points and 2.4 boards for Providence his freshman season.
Cliff getting controversial?: Former KU big man Cliff Alexander had somewhat of a defensive tone in a recent interview with Draftexpress.com. Asked about what he has shown in pre-draft workouts that people did not see in college, he said: "That's the Cliff Alexander you all saw in high school, that's all I have to say."
Asked about his one year at KU, he said: "I got dealt a bad deck of cards when I was at Kansas. It just didn't go as I planned it. It was just kind of (an) off situation. I just have to move forward and on with everything."
He was suspended eight games because of an NCAA issue reportedly involving his mom accepting benefits from a third party.
"Just overall, everything. When I was playing I wasn't very dominant. I didn't live up to my expectations I was supposed to," Alexander said. "When the suspension came it just made me go downward."
Asked by Draftexpress why he averaged 17, 18 minutes a game (actually 17.6), he said with a laugh: "I'm gonna leave that to coach Self. I'm going to leave that to coach Self.
"I have a lot to prove, how everything went down at Kansas. I feel I have to get my name back out there more and redeem myself," he stated.
To see Alexander's interview go to http://ljw.bz/1LYZwQK
Ticket info: Single-game tickets for KU's exhibition games against Canada June 23 and 26 at Sprint Center go on sale for Williams Fund members today and Wednesday. General public sales begin Thursday. Cost is $27 for the June 23 game and $37 for the Friday contest. Fans can buy tickets at Sprintcenter.com or by calling 1-800-34-HAWKS. General public sale for a two-game ticket package is available for $50.