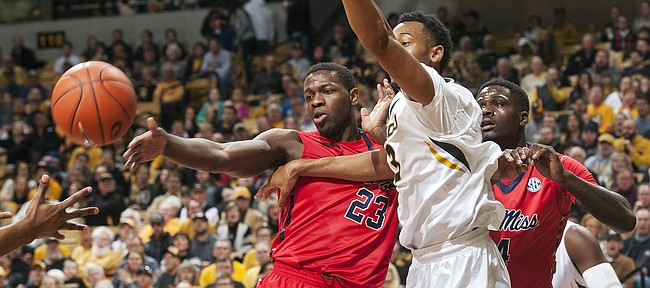 Kansas University basketball coach Bill Self made the signing of center Dwight Coleby official Monday by announcing the big man who spent the past two seasons at Ole Miss signed a grant-in-aid agreement to attend KU.
The 6-foot-9, 240-pound Nassau, Bahamas, native visited Kansas this past weekend, and will become eligible to play for the Jayhawks in the 2016-17 season after sitting out the upcoming campaign due to NCAA transfer rules.
"We've been keeping an eye on transfers the entire spring due to the fact we lose so many big guys next year," Self stated in a KU press release.
Perry Ellis, Jamari Traylor and Hunter Mickelson are seniors for the 2015-16 season, and incoming freshman Cheick Diallo could turn into another one-and-done Kansas product.
"It would be nice to have a big guy in your program that knew the system, and we can rely on to be a foundation," Self said. "When Dwight became available, we researched it and watched tape. He's a exactly what I think we need. He's a big guy that can play either bigs position. He's active. He reminds me of a lot of a bigger Jamari or Thomas Robinson-type body. He's got a great motor. I feel like he can play on the block. He can play facing. He can do a lot of different things. He's raw offensively, but he's a premiere athlete and should be a solid rebounder and defender right off the bat."
Coleby will join KU in July, after he competes for the Bahamas in the FIBA Caribbean Basketball Confederation (CBC) Championships, June 15-21, in Tortola, British Virgin Islands.
At Ole Miss this past season, Coleby played in all 34 games, started three of those and averaged 5.4 points and 4.8 rebounds in 16.5 minutes a game. The Rebels went 21-13 and lost their first game of the NCAA Tournament against Xavier.
Coleby blocked 29 shots on the season and hit 53.2 percent of his field-goal attempts, while making 79.7 percent of his free throws.
He had six double-figure scoring efforts and put up his first career double-double of 12 points and 10 rebounds at Arkansas, in January.
"Dwight was obviously a contributor and role player for an NCAA Tournament team," Self said. "He didn't play a ton last year, but Ole Miss had good players. He's hasn't been playing ball forever, but there is definitely a foundation there, physically. Also, foundation from an intellect standpoint that is going to allow him to become a much better player fast. Without question, we think his best ball is well down the road. I see him being a Darnell Jackson. I see him being a bigger Jamari, a guy that can have a big impact on our program and hopefully mature and develop into a starter for us."