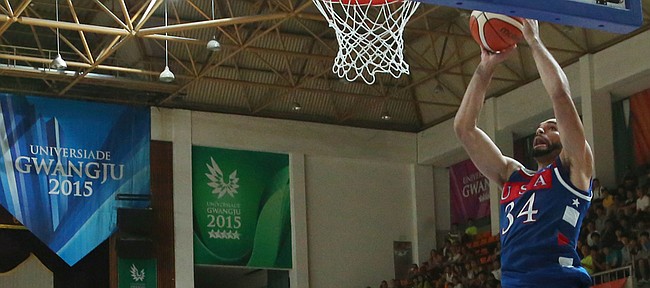 Gwangju, South Korea — Kansas University senior forward Perry Ellis sat for most of the fourth quarter in Team USA's 81-72 victory over Brazil on Sunday because of a tweaked ankle.
Ellis finished with nine points and eight rebounds in 21 minutes.
"Perry, he tweaked his ankle. I don't know exactly what it is," Kansas coach Bill Self said. "(Trainer) Bill (Cowgill) said it wasn't anything structural. Hopefully it's just sore and he'll be able to bounce back. The day off will help him, though."
Junior forward Landen Lucas only played three minutes, committing two turnovers and blocking one shot.
"Landen is fine," Self said. "There is nothing wrong with Landen physically."