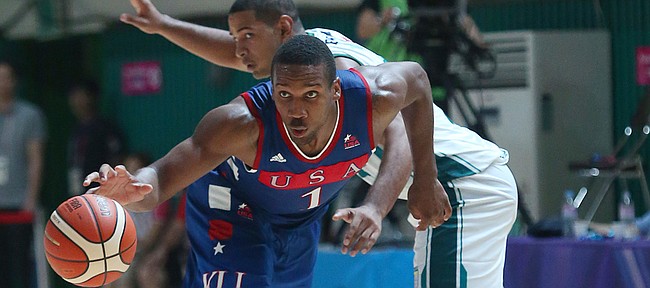 Gwangju, South Korea — The United States men's basketball team needed a lift after a sloppy first quarter against Brazil on Sunday night at DongKang College Gymnasium.
Kansas University junior guard Wayne Selden decided to take matters into his own hands.
Selden exploded for 15 of his team-high 23 points in the first half, including eight in the second quarter, lifting the Jayhawks to a 81-72 victory at the World University Games.
"Wayne's probably played about as well in the first two games as any player in the tournament has played the first two games," Kansas coach Bill Self said. "I haven't seen, obviously, other guys, but he was great. Strong. Attacked the rim. Made shots. It's always nice when Wayne gets his first couple down because it gives him confidence."
Photo Gallery
Team USA vs Brazil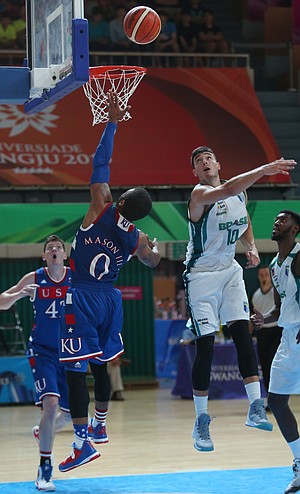 Photographs from Team USA's 82-71 win over Brazil Sunday, July 5, in Gwangju, South Korea.
Document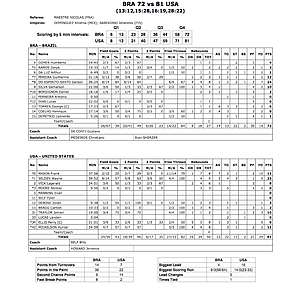 Selden, who sat for just eight seconds in the contest, added three assists, four rebounds, three steals and four turnovers. He made his first two shots and had seven points in the first quarter.
"Just playing basketball," said Selden, who shot 8-for-14 from the floor, including 3-for-6 from three. "My teammates found me when I was open and I just knocked down shots."
The Jayhawks struggled in the first quarter, shooting 27 percent from the field (3-of-11) with nine turnovers. Despite the problems on offense, they only trailed by one point, forcing Brazil into tough shots and cleaning up the glass. Team USA won the rebounding battle, 50-27.
"We came back into the huddle and kind of had to change our mindset a little bit, kind of refocus in," KU senior forward Hunter Mickelson said of the difference after the first quarter. "That first quarter was a little bit shaky, just getting into things. But like I said, once we got back in the huddle, we kind of settled down, refocused, and came out better from there."
Self added of the first quarter: "It was awful. We had 22 (turnovers) for the game. Perry didn't have a good game. Our bigs all got off to a terrible start."
For the second straight game, the Jayhawks defended well. Brazil shot 39 percent from the field (26-of-67), including 6 of 26 from the three-point arc.
"We're really improving there," Selden said. "I know we're Team USA right now, but as Team Kansas, that's where we struggled at last year and the year before and we're really trying to improve that."
Brazil pulled within eight points in the fourth quarter, cutting the margin to 64-56 with 6:30 remaining. But Selden drilled a jump shot, junior point guard Frank Mason III grabbed a steal and dished an assist in the paint to Mickelson for a layup-and-the-foul to start a decisive 9-2 run.
KU senior forward Perry Ellis sat for most of the fourth quarter with what Self said was a "tweaked ankle" and SMU senior guard Nic Moore fouled out, leading to extra minutes for Mickelson (11 points and eight rebounds in 25 minutes) and KU freshman guard Lagerald Vick (eight points and six rebounds in 24 minutes). Senior Jamari Traylor added 10 points and two rebounds in 19 minutes off of the bench.
"We're not going to have a chance to advance very far if Nic only plays nine minutes and fouls out," Self said. "But I thought that really our bench carried us to where I thought our starters carried us the other night."
Mason added four points and four assists in the fourth quarter, helping the Jayhawks pull away.
"Frank did a really good job of getting into the lane," Selden said of Mason, who had 15 points, eight rebounds and seven assists in 38 minutes. "The bigs really did a good job of spacing out. We found shooters. Lagerald made real big shots down the stretch. He played his best game as a Jayhawk so far and I'm really proud of him."
But the Jayhawks were sparked by Selden when they had trouble finding an offensive rhythm in the first half. His eight points in the second quarter helped USA go on a 14-0 run over three minutes.
"Wayne looks healthier to me," Self said. "He's more bouncy. For a guy his size to play 39 minutes — that's pretty strong — and then not be tired. His conditioning is off the charts. He's obviously worked really hard this summer."
The Jayhawks have an off day on Monday, but will return to the court to face Chile at 2:30 p.m. (12:30 a.m. CDT) Tuesday at Muan Indoor Gymnasium. The game will not be televised.
---
More from USA-Brazil
---