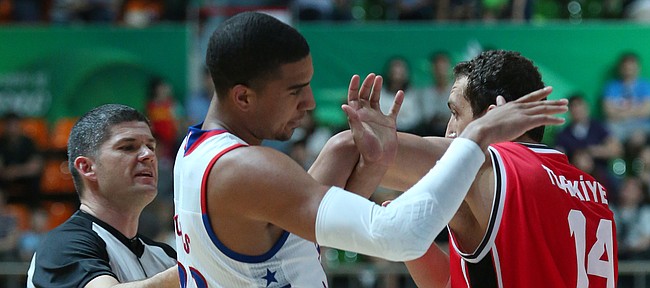 Gwangju, South Korea — After practicing through tired legs all week, and dealing with jet lag, United States/Kansas University men's basketball players used their conditioning to their advantage in a 66-57 victory over Turkey on Saturday at DongKang College Gymnasium.
The Jayhawks didn't shoot the ball well, going 27 of 69 (39 percent) from the field with only five three-pointers in 20 attempts. But their legs allowed them to keep the intensity up on defense and tire out Turkish players.
USA will face Brazil at 8:30 p.m. today (6:30 a.m. CDT on ESPNU) at DongKang College Gymnasium. Brazil (1-0) won big in its opener against Chile, 78-33.
"We shot it terrible. We shot it horrible," KU coach Bill Self said. "We didn't play very good individually but we did defend really well the last three quarters as a team. We didn't rebound it great but we defended well and I think that was the difference."
"I also think conditioning was the difference," Self added. "I think they got tired. They were so much better than us early on. Then really from about the 15-minute mark on, I felt like if we kept pushing the pace offensively, they would wear down. They got tired."
The Jayhawks trailed by 11 points in the first quarter before using a couple of big runs in the second and third quarters to take a lead they would never give up.
"I thought that they played great," Self said of Turkey. "I think they just got tired. The same shots they made early, obviously they didn't make late. A big play also … when (MD Senli, leading scorer with 18 points) got hurt, I don't know if it affected them or not but he was the best player in the game in the first half."
The Jayhawks only had four fast-break points in the win, but held Turkey to just 6-of-25 shooting in the second half (24 percent) with 11 turnovers.
"We want to try and get out and run as much as we can, you know," KU senior forward Perry Ellis said. "They slowed it down a little bit. We still grinded the game and we won so that's all that counts."
Better than southern hospitality: The Jayhawks have been impressed by all of the friendliness by local Gwangju residents since arriving on Tuesday morning.
"I think the Korean fans are great," Self told a Korean news outlet. "But even more importantly than that, the people here have been unbelievably kind, nice. Their hospitality is off the charts. In the States, we call it 'southern hospitality.' Here it probably is even much greater than what it even is back in the States. We really appreciate everyone's efforts to make this a great experience for everyone."
The Jayhawks drew a big crowd for their opening game on Saturday, and a large number of students have shown up at their practices.
"It's been great, man," Ellis said. "People are so nice. It's just cool like interacting with them. They get so happy. Overall, I mean as a team, we got to go to the town and stuff a little bit. It was pretty cool."
Moore cramped up: SMU senior guard Nic Moore went down with a left leg cramp midway through the fourth quarter, but didn't need much time to return to the floor.
Moore sat on the court for treatment and exited the game with 4:50 remaining. He returned for the final 3:21 of the contest.
"Just cramped up," said Moore, who had nine points, two assists and three steals in 30 minutes. "They jinxed me earlier today, asking me if I ever cramped and that was my first one."
Turkey uses older players: Kansas University senior forward Hunter Mickelson is the oldest player on the USA roster at 23 years and 4 months.
He would be the third-youngest player on Turkey's roster, which featured a lineup of players mostly born in 1991. Turkey's oldest player, Ilhan baris Golkalp, is 24 years, 6 months and 4 days old, born on New Year's Day in '91.
By contrast, the USA's youngest player, KU freshman guard Lagerald Vick, was born in 1997.
"These are grown men," KU junior guard Wayne Selden Jr. said. "We're in college. We're young men. These are grown men. They are a lot older than us, a lot more mature. But we did well with it today."
Pool D Standings
Team W L Pts PF PA PD
Brazil 1 0 2 78 33 +45
Serbia 1 0 2 58 41 +17
United States 1 0 2 66 57 +9
Turkey 0 1 1 57 66 -9
Switzerland 0 1 1 41 58 -17
Chile 0 1 1 33 78 -45