It's evident from the stories, photographs and videos posted on KUsports.com by reporter Bobby Nightengale Jr. and photographer Mike Yoder that the Kansas University basketball players are having a blast on their basketball/culture-learning trip to Gwangju, South Korea. Whether they are holding a basketball clinic on a local playground, interacting with local youth or playing piano at a high school, they all look so thrilled to be there thrilling the locals with their presence.
Still, the leader in the clubhouse among KU athletes for having the most enjoyable summer has to be golfer Chase Hanna.
A rising junior from Leawood and a graduate of Shawnee Mission East High, Hanna is three weeks removed from winning the Watson Challenge, becoming the first amateur winner in the nine-year history of the tournament and edging Tom Watson himself by a stroke. Hanna's three-day score at Mission Hills Country Club was 4-under par.
With three weeks for the thrill to soak in, one statement uttered to him by Watson sticks out for Hanna.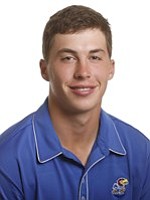 Hanna entered the 18th hole on the final day clinging to a one-stroke lead on Watson, his playing partner. Hanna discussed with his caddie whether to play for par or birdie on the hole. He pulled a driver out of his bag in order to give himself the best shot at birdie and wound up with a two-putt par on the 558-yard, par 5. Watson, winner of the Challenge five times, also made par.
"Mr. Watson presented the trophy to me and told me he thought it was impressive the way I played the last hole," said Hanna, who won't ever forget those words.
Six years earlier, Watson, seemingly fueled by adrenaline, had hit a shot into the green too well and it rolled off the back and he couldn't make the par he needed to win the British Open on the final hole in regulation. He lost a four-hole playoff with Stewart Cink to finish second at the age of 59. It was one of those remember-where-you-were-watching-it moments.
"I remember that very clearly," Hanna said of Watson nearly winning his sixth British Open at an age when golfers simply do not contend for PGA tour titles. "I remember I didn't go to church that morning because I had to watch. I wanted him to win really bad and it was tough to see him lose. Still, it was obviously an awesome tournament for him. I was rooting hard for that ball to sit on that green that last hole."
In the media tent afterward, Watson looked at the dejected reporters and tried to cheer them up. What a moment from one of golf's great champions. Beyond the thrill of defeating Watson, 65, Hanna said he can't help but become better from having played with and competing against Watson.
Hanna said among the many things that impressed him about Watson were, "his competitive nature, and just his calmness, his ability to take it one shot at a time. That's very cliche, but he really does do that. Whether it's a bad shot or it's a good shot, he's moving on. He's the same. If you just walked up it would be hard to tell if he's playing poorly or he's playing well. I'm working on that, but obviously I'm nowhere near his level with that."
KU doesn't need Hanna to become the next Watson to qualify for NCAA regionals, just his steady improvement. Winning the Watson Challenge was a nice step and an incredible experience for Hanna.