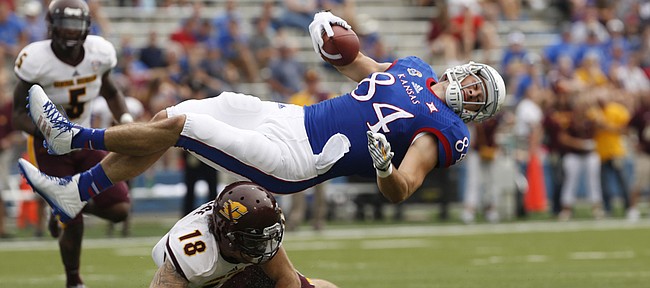 For the past couple of seasons, Kansas University tight end Ben Johnson had a front-row seat to watch the development of Jimmay Mundine.
A gifted, but somewhat raw and immature tight end when he arrived at Kansas, Mundine always was viewed by coaches and fans as a guy who could emerge as a big-time weapon if ever he could put it all together.
It took the former Kansas tight end a few years to do so, but during his final two seasons as a Jayhawk, Mundine, who now is fighting for a roster spot with the New England Patriots, turned in all-Big 12-type seasons and became one of KU's most reliable weapons in the passing game.
Johnson, who came to KU as a three-star prospect out of nearby Basehor-Linwood High, said watching Mundine come into his own and emerge as a veteran leader did wonders for his understanding of how to play the position and how to succeed at the Division I level.
"Really looking at the guys who came before me, like Jimmay, helped me see that my time was coming," said Johnson, who played in all 12 games last season as a red-shirt freshman and tallied 80 yards on eight receptions. "That really helped me grow on and off the field."
By all accounts, Johnson's time has arrived. Although he will not be the only KU tight end asked to pick up the slack for the departure of Mundine, he is the only one with game experience, and his limited but efficient time on the field demonstrated that he, too, should be considered someone KU's quarterbacks can count on to catch the ball and make tough plays.
For a team that is replacing pretty much its entire receiving corps from a season ago, that kind of presence is a luxury.
"I know you have to make the best of each opportunity you're given and that's a daily thing for me," Johnson said this spring. "Any chance I get, I'm gonna make the best of it and make sure it's a successful opportunity. Hopefully last year was the tip of the iceberg. We'll see."
At a solid 6-foot-5, 234 pounds, Johnson not only is a guy the Jayhawks can count on to catch passes but also to block. Because he has roughly 20 pounds on Florida transfer Kent Taylor, who sat out last season but did practice, Johnson knows that the responsibility of handling those tight end duties that more closely resemble an offensive lineman than a wide receiver will be his.
But whether he's in tight blocking for the guys in the backfield or running down the seam looking to make a play, Johnson believes that his game combined with the wideout skills possessed by Taylor will give KU a quality one-two punch at the tight end position this fall.
"We're pretty similar," he said. "We have the same mindset and we both want to win. It's been fun. We bring out the best in each other and it's definitely a healthy competition."
Johnson and the rest of the Jayhawks will spend the next month continuing to work out with the KU strength and conditioning staff before kicking off preseason camp in early August.