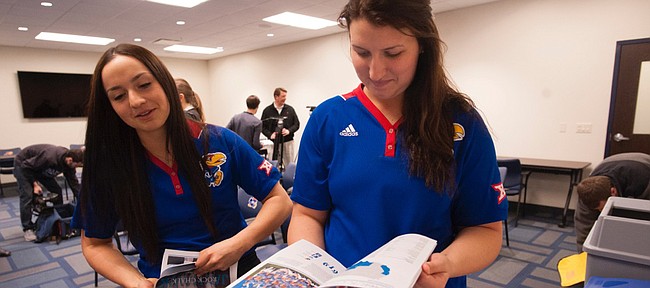 Senior Kansas University softball pitcher Alicia Pille spent the offseason often reminiscing about the moment last spring when the Jayhawks found out they were NCAA Tournament-bound.
She and her KU teammates aren't living in the past, still basking in the program's first postseason berth since 2006. They just think about what they've accomplished in order to outdo themselves this season.
Pille already finds herself looking forward to the tourney selection show.
"I want more than ever, even more than I did before, to see that name (KU) on the screen again," the senior pitcher said Thursday afternoon at Rock Chalk Park. "So, I can't wait, and I think everybody feels the same way."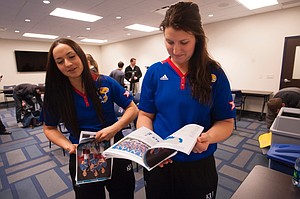 Now in her sixth season at Kansas, coach Megan Smith's Jayhawks finished 34-23 in 2014, and went 1-2 in the NCAAs, with a win over Nebraska in Columbia, Missouri.
Sophomore utility player Lily Behrmann, junior shortstop Chaley Brickey, senior first baseman Maddie Stein, junior third baseman Chanin Naudin, sophomore outfielder Taylor Dodson, sophomore infielder Taylor McElhaney and Pille all played in that NCAA regional.
The Jayhawks would have even more experience in the lineup coming back, but sophomore catcher Harli Ridling underwent season-ending Tommy John surgery and would-be junior pitcher Kelsey Kessler transferred to Arizona State.
Their absences might have something to do with the Big 12's coaches picking KU fifth in the seven-team preseason poll, behind Oklahoma, Baylor, Texas and Oklahoma State.
"Top to bottom, the Big 12 is one of the toughest conferences in the country," Smith said when reminded of the prediction. "It is year in and year out. We lost some players, but we gained a lot."
Naudin said the Jayhawks hope to maintain the momentum of their NCAAs trip last season and prove doubters wrong.
'I feel like we are definitely better than what we've been picked to be," the senior third baseman said, "and we have an opportunity to show that we are better than that."
What's more, Brickey, who hit .365 with 12 home runs and 41 RBIs last season, said KU is capable of getting back to the NCAA Tournament.
"We know what it takes to get there, and we know what the other (postseason) teams are like," Brickey said. "We've been there and now it's just about getting the newcomers to understand what it takes to get there, and getting them all on the same page with us."
Smith indicated transfers Briana Evans (a junior outfielder from Ball State) and Monique Wesley (a junior pitcher from Cal State Fullerton) figure to bolster KU's lineup, and freshmen infielder Daniella Chavez and catcher Jessie Roane figure into the Jayhawks' plans, as well.
KU opens its season Feb. 6 at the Florida Atlantic Tournament, against LIU Brooklyn. Also on the schedule at the three-day event: Georgia Tech, Arkansas, Florida Atlantic and Penn State.