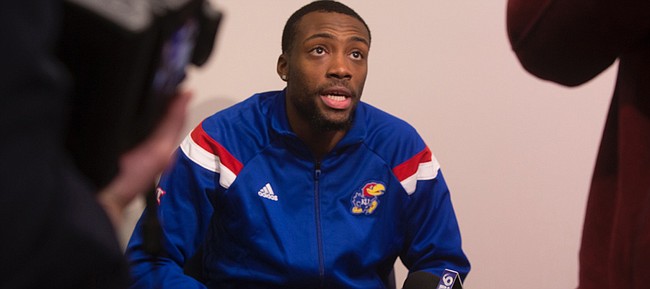 Seeing how the Super Bowl is just a few days away, a couple Kansas University track athletes had some advice for head coach Stanley Redwine before he stepped to the podium Thursday afternoon for the team's preseason media day at Rock Chalk Park.
"I guess I'm supposed to say I'm just here so I won't get fined or something like that," the 15th-year KU coach said with a smile, referencing Seattle running back Marshawn Lynch's infamous repetitive response earlier this week.
Actually, Redwine had far more to discuss, beginning with the competitive nature of the Jayhawks.
All senior hurdler Michael Stigler has done since coming to KU is win three straight Big 12 championships in the 400 hurdles and earn first-team All-American status each season.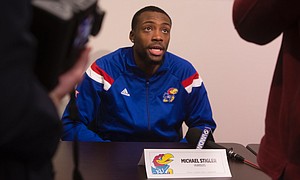 "I don't really like singling people out," Redwine said, "but that's one guy that I know will give everything he has every time he steps on the line, and that's in practice, and everything that he does. We're really excited about his senior year and the things we're hoping he will do."
Likewise, 2014 All-Big 12 selection in the women's 800 (indoor and outdoor) Rhavean King thrives on competition, her coach bragged, sharing the junior is on pace to graduate after three years and will then start law school.
"When you're talking about competitors, you tell her she can't do something, she's gonna go out there and prove to you that she can," Redwine said. "Those are the kind of people we have on the team and that our coaches have been doing really well with."
King, a junior from Memphis, shrugged off her academic progress, and said KU has the resources to help her pull it off.
"I'm a driven person in everything I want to do, both academically and athletically," King said. "It was easy to do."
As ambitious as both the men's and women's athletes are, though, Stigler said no friendly rivalry exists between the two sides — even though the KU women can point to their 2013 Big 12 and NCAA championships.
"We look at it like we're all one team," the senior from Canyon, Texas, said. "We train together, we work together, so if the girls succeed we helped them out, if we succeed, they helped us out."
The KU women return more than 70 percent of their scorers from last season's roster, which finished fourth in the Big 12. Senior Lindsay Vollmer is the 2013 NCAA heptathlon champ and a three-time Big 12 title-holder. Junior Sydney Conley earned first-team All-America honors in the long jump twice last season. Junior thrower Anastasiya Muchkayev is a six-time All-Big 12 selection in shot put and discus.
A young team with 20 true freshmen, the KU men are led by Stigler and junior pole vaulter Casey Bowen, the defending outdoor Big 12 champ.
Both the men's and women's teams open the season unranked in the USTFCCCA Preseason Top 25.
KU hosts the Jayhawk Classic at Anschutz Pavilion today.