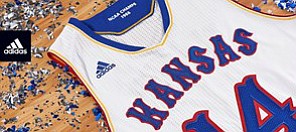 Kansas University and Adidas are at it again.
The KU athletic department on Thursday unveiled a new-look uniform that the Jayhawks will wear for their home match-up with Texas on Feb. 28.
The uniform, dubbed the "Heritage Classic" is made of modern-day material but will feature logos and lettering inspired by KU's 1988 national championship uniforms.
A special callout on the jersey's back collar, "NCAA CHAMPS 1988," further commemorates the Jayhawks' rich basketball tradition. According to the release, fans should note that the signature finishing touch adorning the collar is only on the student-athlete's game jerseys to remind the wearer of the heritage of the program as they don them.
The special uniform is part of the Jayhawks' season-long celebration of the 60th anniversary of Allen Fieldhouse.
A limited number of replica jerseys will be available immediately to fans at KUStore in Allen Fieldhouse, and at KUStore.com within the week.