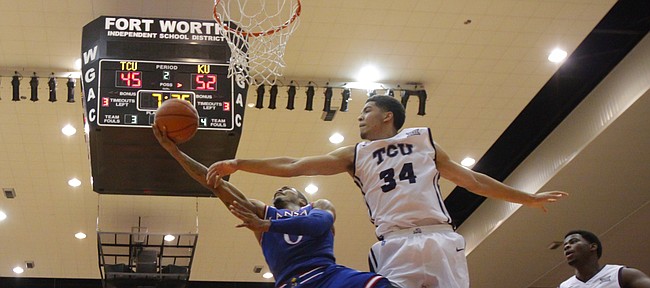 Watching Frank Mason play basketball prompts a question to which no answer easily comes to mind: Is there a sport he could not excel at had he grown up playing it?
A 5-foot-11, 185-pound sophomore, he's fast, quick, strong, balanced, flexible, focused, driven, explosive, competitive.
Imagine Mason as a gymnast executing a double back tuck with three-and-a-half twists to the amazement of the audience, a second baseman kicking his legs back to avoid the take-out slide and gunning an on-target, on-time throw to turn the double play.
Football is a given. A West Virginia assistant at one of Mason's high school basketball practices to watch a teammate who is a starting offensive lineman for the Mountaineers, told Mason he should play football because he'd make a great cornerback. The assistant, Mason said, returned to his school the next day and had him pulled out of class to offer him a scholarship.
Fortunately for Kansas, Mason stayed with basketball.
Mason has a nice knack for knowing when to play the facilitator, when to take over. Things weren't going so well midway through the second half Wednesday at TCU, which led by three. So he took it upon himself to score.
Mason scored eight points on KU's 19-5 run to build an 11-point lead with 3:35 left. He scored on a pair of drives, a jumper and a floater. From that point, he was as much responsible as anyone for a bizarre collapse that resulted in overtime a possibility as the buzzer sounded with Charles Hill's shot in the air, heading toward the rim. It bounced out and Kansas won, 64-61. Mason committed two late fouls, turned it over and misfired twice from the line with four seconds remaining, when one free throw would have sealed the victory.
It was that kind of a night for Kansas, where even those who made good plays couldn't escape bad ones. But Mason left no doubt as to who was the best player on the floor when he sliced apart the Horned Frogs' defense to build the double-digit lead.
Typically, Mason is terrific under pressure, his unemotional approach seemingly making him impervious to it. Every Big 12 city Kansas visits leaves many fans trying to remember Mason as a freshman, when he played second fiddle to Naadir Tharpe. The same fans won't have any trouble remembering Mason as a sophomore.
"Defensive end, offensive end, he gets ups in everything we do," classmate Brannen Greene said of Mason. "Breaks the press by himself. He's just a big-time player for us."
The best player on the team.