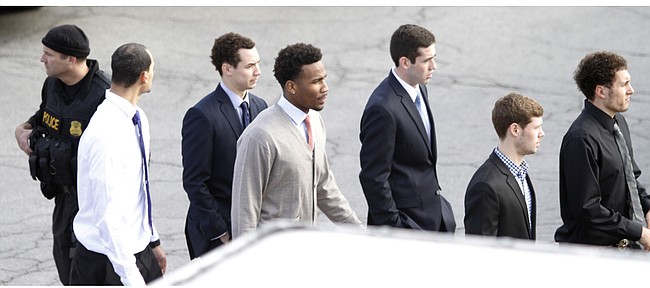 Barack Obama, the 44th president of the United States, spent some quality time with Kansas University's basketball players and coaches on Thursday morning, prior to delivering a 30-minute speech before a crowd of 7,150 in Anschutz Pavilion.
"I think I timed it at about 14 minutes, 36 seconds," KU coach Bill Self said with a smile, the implication he savored every moment the Jayhawks bonded with basketball fan Obama in Hadl Auditorium.
The Jayhawks' Wayne Selden Jr. and Tyler Self presented the president an official KU hoops jersey with No. 1 and Obama's last name on it and also an autographed basketball.
Photo Gallery
President Obama visits Lawrence, KU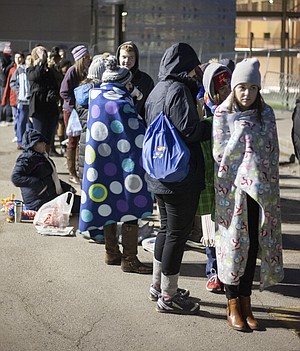 President Barack Obama spent the morning in Lawrence, Thursday, Jan. 22, 2015. Obama visited a downtown Head Start program before speaking to a crowd of thousands at Kansas University.
"That's the president's jersey. I'm just wearing No. 1," Selden said, asked jokingly if he was upset the president was given the number Selden has worn at KU the past two seasons.
The KU players listened intently to Obama talk about watching Jayhawk games on TV, about his own game (jokingly asking the players if they wanted any pointers) and about some other life lessons.
"He was really humble. He was really welcoming. That was the big thing. He made it seem like he was meeting us. We felt like we were meeting him," Selden said.
Self said Obama "shook everybody's hand. He wanted to know everybody's name, took a couple pictures, group pictures. He shared a few words of wisdom.
"He said, 'You need to worry about your academics, too. You didn't come here just to play ball,''' Self explained. "I said, 'Hey Mr. President, overall team GPA 2.93.' You know what he said? 'You've got to get it up to 3.0, which basically tells you, 'Don't ever be totally satisfied,' which I thought was pretty cool for our guys to hear," Self added.
Self said the Jayhawk players were awed by the experience.
"I think I've got a pretty good relationship with our guys, most of them, and a pretty open line of communication. Very rarely do they just text me out of the blue and say, 'Hey coach, how are you doing today?' After this today, half the team texted me immediately saying, 'Coach, man that was awesome. Thanks for allowing us to be part of that.' It's a big deal for everybody.
"Look at Svi (Mykhailiuk, KU freshman from Ukraine). Who knows how Svi has viewed the president of the United States coming from Ukraine or what Russia thinks of us? He filmed the whole thing. He was really into it. Think of kids, especially African-American kids that maybe come from tough environments, Cliff (Alexander) and Jamari (Traylor) coming from Chicago. He wanted to know right off the bat, 'What high school did you go to?' and that kind of stuff. He made those kids feel special. I'd think anybody in his business is used to crowds. He certainly made our guys feel good today."
Obama shook hands with each player as they identified themselves.
"He talked about our last game, the Oklahoma game. He talked about the games we have coming up," Selden said. "He talked about his game a little bit, saying he's slowing down. He said if we wanted any tips just ask him. Nobody asked him.
"He has the nation to take care of and he's watching our games ... that's really big," Selden exclaimed.
Obama has long been a huge sports fan. His brother-in-law is former Oregon State hoops coach Craig Robinson.
"Jerrance (Howard, KU assistant) asked him, 'Tell us about your game.' He went into a little talk about his game," Self said. "He said, 'I'm not fast or anything, but I'm faster than most 53-year-olds.' He follows college basketball. He knew we were coming off a big win. He wanted to know who we had next. He told us we better be ready when we go down to Texas (on Saturday).
"He made a point to tell our team we'd disappointed him twice during his (NCAA Tournament) picks when he picked us twice to win the national championship and we came up short," Self added of Obama needling the Jayhawks a bit. "He said he didn't think he'd go in that direction this year but he thought we'd be a pretty high seed."
Noting Obama was "real cool, real humble," frosh Devonté Graham added: "He joked around about the brackets and we kind of disappointed him two years ago. He definitely knew about Jayhawk basketball."
During his speech, Obama said: "I've got to admit, I took a moment to meet with coach Self and the KU basketball team. I mean, we're here for other business but while I was here I thought I should talk to some basketball players. And it is January so that means the Jayhawks are at the top of the Big 12 hunting for 11 straight conference titles."
Obama also joked, "Coach Self won 10 straight. I lost two straight here (vote in presidential elections in Kansas). I might have won sections in Lawrence. That's a possibility."
The Jayhawks were impressed with the personality shown by the country's commander in chief.
"He was extremely cordial and talkative. He certainly enjoyed meeting the players," Self said. "I know all our guys were very honored and felt privileged to be part of that today. Regardless of your political affiliations and what you think and believe and whatnot, it's pretty cool to have the most powerful man in the world right there in Hadl Auditorium visiting with your kids."
KU's politicians: Selden was quick with a one-liner when asked which teammate would be best suited for politics.
"Not Jamari," he said, grinning, referring to Traylor. "Maybe Evan (Manning). He is really opinionated, sticks with his opinion. He feels his opinion is the best opinion. I feel that's how politics is. I don't know anything."
Graham's answer to the question was, "Josh Pollard. That's the man. That's the guy. He's really smart. He knows about politics. I'd say Josh."
Bumps, bruises: KU will meet Texas at 1 p.m., Saturday in Austin. Self said Traylor (hip flexor) was able to practice this week and should not be limited. "He's fine. Everybody's fine," Self said.
The itinerary: The Jayhawks congregated in Self's office at 9:50 a.m., Perry Ellis stated. "We hung out there awhile and went down there (to Hadl) right before he went to speak. We got to meet him real quick, then he went to speak (about 11:30 a.m. in Anschutz)." ... The players watched Obama's speech live in Anschutz. ... Obama used the softball locker room as his pre-speech headquarters. KU officials said he used the soccer locker room "to videotape something." ... Of the experience, Self said: "Any inconvenience it caused by having the president here ... I don't think anybody felt it at all. I think it was a first-class deal, one we should be proud of (as an entire university). Everybody was proud to be there."