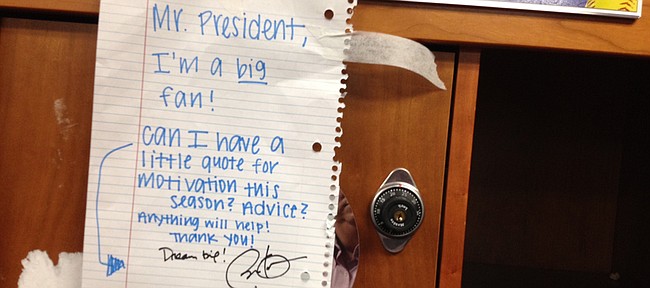 Alicia Spack, director of operations for the Kansas University softball team, let the players know via text Tuesday that their locker room would be off limits Thursday because it was going to be used as essentially the green room for the president of the United States, before making his speech at Anschutz Pavilion.
Morgan Bohanan, a freshman infielder from Goddard, was told by a couple of her teammates that a Secret Service agent told them, "Why don't you write him a note?" So several players did just that.
Katelyn Schumacher wrote, "HI MR. PRESIDENT — hope you enjoy our fine establishment!" At the bottom of the note, which was posted next to an American flag, she wrote "Sign here," and left a line on which she wanted him to leave his autograph. President Barack Obama obliged.
Sophomore designated hitter/right fielder Lily Behrmann, a lefty, as is the president, also wrote.
Her note, tucked into a mirror, in part read, "Dear Mr. President, I hope you are able to read this. I just wanted to say thank you for everything and being able to come to our school! My mom absolutely adores you!"
Bohanan wanted more than an autograph.
"I didn't want my note to be like everybody else's. I figured if I'm going to write a note, I'm going to try to get something out of it," Bohanan said.
So she wrote, "Mr. President, I'm a big fan! (The word 'big' was underlined). Can I have a little quote for motivation this season? Advice? Anything will help! Thank you!"
The president responded "Dream big!" and signed his name.
"I figured if anyone has some good advice, it would be the president of the United States," Bohanan said. "I wanted to make my note unique."
Bohanan said it was "a shock," to see that the president had responded. She then proved she took his advice to heart when asked what big dream she had for this season.
"My biggest dream, of course, would be to win a national championship," she said.
That's big, all right, but is it realistic?
"Oh yeah," Bohanan said. "I'm confident we can. Our team works extremely hard, day in and day out and we have the talent to do it. We just have to put all the pieces together."
Bohanan's life dream is every bit as American as striving to be No. 1.
"I just want to be as happy as I can be and be as successful I can be," she said. "Of course, good health, hopefully a happy family and a good job, just be an average person who is happy in life."
What a beautiful dream, so well stated.