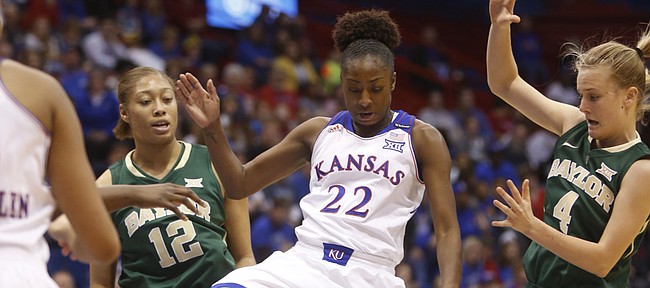 As Kansas University's women's basketball team chipped away at No. 3-ranked Baylor's once-double-digit lead in the second half Saturday afternoon at Allen Fieldhouse, KU's players and coaches had to feel good about their chances of scoring an upset victory.
It was just a year ago, after all, that the Jayhawks beat a Top-10 BU team at home in January.
But the Bears remembered that loss, too. And though KU cut what was once a 12-point deficit in the first half to one on a Chelsea Gardner jumper with 8:49 remaining in the second, the Jayhawks only made two of their next 10 shots.
Memories of an upset remained just that, and Baylor won its 15th straight game, 71-63.
"We didn't forget that (from) last year," Baylor coach Kim Mulkey said. "We know how difficult it is to win on the road. We didn't look that they were 0-4 in the league. That just doesn't matter."
The loss marked the fifth in a row for Kansas (9-9 overall, 0-5 Big 12).
Baylor (16-1, 5-0) forced KU to miss its final three layup attempts, as well as its final four three-point attempts.
The Jayhawks went nearly six minutes without a field goal after Gardner (17 points) hit another long jumper with 6:46 left, making it a two-point Baylor lead.
Document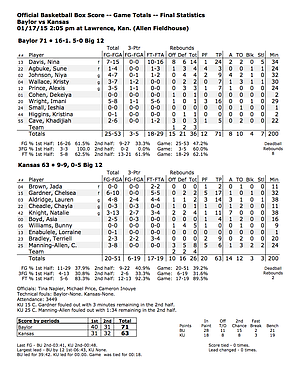 KU coach Bonnie Henrickson said her team failed to get deep touches in the closing minutes and at times showed poor spacing, both leading to late-shot-clock situations when trailing Kansas didn't have time for that.
"We weren't aggressive," Henrickson said. "When we were, we got to the free-throw line."
Five of KU's final seven points came at the charity stripe, but Baylor scored its last eight points at the foul line in the final 2:59. No one benefited more than sophomore BU forward Nina Davis, who fouled out both Gardner and Caelynn Manning-Allen (six points, eight rebounds) late. Davis scored 10 of her game-high 24 points at the free-throw line and pulled down a game-leading 14 boards.
Gardner, KU's star senior forward, picked up her fourth personal foul away from the ball with 3:01 left. After Sune Agbuke missed the front end of her one-and-one, Davis hauled in one of her eight offensive rebounds and attacked Gardner to send her to the bench with 3:00 to play and BU leading 64-58.
"It was a huge disappointment," Gardner said of the disqualification.
How difficult was it to pull off a comeback and upset with Gardner, who had scored 11 points on 4-for-6 shooting in the second half, on the bench?
"You'd like the best guy to play," Henrickson said. "Difficult. Foul trouble's been an issue for her, obviously."
The loss to Baylor marked the third time Gardner fouled out this season and the eighth time she earned at least four fouls.
KU senior guard Natalie Knight, who scored 11 points on 3-for-13 shooting and passed out seven assists, described the loss of Gardner as a bit of a letdown. But she chose to focus on the strides the Jayhawks felt they made in the loss.
"We think we played a lot better overall," the senior from Olathe said, "and if we continue to carry that over into other games, it will be really good for us."
After losing three of their first four conference games by double digits and turning the ball over 20-plus times in their previous three outings, the Jayhawks competed and only had 12 turnovers — one off their season-low. So even Henrickson walked away seeing some positives.
"I felt like we got better today," she said. "Our energy was better, our effort was better, we took care of the ball, we got to the free-throw line (17-for-19)."
Freshman KU guard Lauren Aldridge scored 14 points, and freshman Terriell Bradley added nine points off the bench.
The Jayhawks are the only team in the Big 12 without a league win. Their next chance to get one will come at 7 p.m. Wednesday at Texas Tech (12-5, 2-3).
"We've dug ourselves in this," Henrickson said, "and we're the only ones who will be able to dig ourselves out of this."