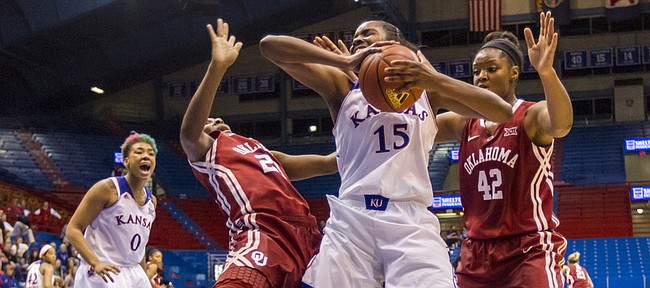 The struggles against Oklahoma continued for Kansas University's women's basketball team Wednesday night, as the Jayhawks lost to the Sooners, 69-57, in Allen Fieldhouse.
Oklahoma has won four straight against the Jayhawks and nearly led from wire to wire. After the Jayhawks jumped to a 4-0 advantage, Sooner sophomore guard Gioya Carter took over, scoring Oklahoma's first 11 points.
Carter scored 11 of her 19 points before the first media timeout, but the Jayhawks were able to weather the storm.
"I thought we showed resiliency to cut it back to a two-point game at the half, because they were about to creep into double-digits (lead,)" Kansas head coach Bonnie Henrickson said.
Natalie Knight scored nine of her team-high 15 in the first half, and Lauren Aldridge drained two threes for the fifth straight contest to help pull Kansas within two at 30-28 going into the break.
The hard work to bring the Jayhawks back in it was lost, though, within the span of four minutes in the second half.
The Sooners opened the second half on a 10-0 run, and the Jayhawks were never able to make it a one-possession game the rest of the way.
Kansas (9-6 overall, 0-2 Big 12) committed five of its 21 turnovers in that four-minute span, while Oklahoma (8-5, 2-0) only coughed it 12 times on the night.
Along with the Jayhawks' turnovers, Henrickson was discouraged with her team's overall effort. Kansas went to the free-throw line just three times, compared to Oklahoma's 27.
"That's a pretty true indicator of teams that are aggressive, attack and get to the free-throw line," Henrickson said.
Oklahoma's interior defense, fueled by center Kaylon Williams, was able to shut down Kansas' guards when they penetrated and also handled KU's leading scorer Chelsea Gardner in the post. Gardner scored seven points and was held to single digits for the third time in her last five games.
"They just clogged the lanes, and we didn't have anything inside," Henrickson said.
While Gardner, a preseason All-Big 12 selection, has been the focal point of the Kansas offense, Knight said the rest of the Jayhawks need to contribute more as well.
"At some point, somebody has got to step up and make a play," Knight said. "I wouldn't say it's hard. We just didn't have enough of that tonight."
Knight and the Jayhawks didn't have much to be happy about after their second straight loss to begin conference play, but she does think it could serve as reality check for what to expect.
"I guess the positive is that we know if we play like this on any other night, we're going to get beat," Knight said.
Kansas senior guard Asia Boyd said one thing in particular will have to change going into the Jayhawks' next game against Kansas State.
"Effort," Boyd simply said. "We've got to give more effort."
KU will tip off against KSU at 1 p.m. Sunday in Manhattan.