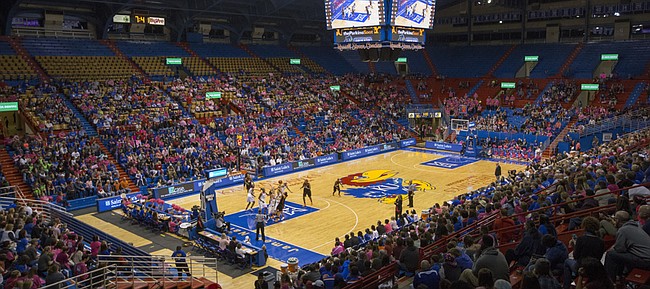 Aggressors early Saturday night at Allen Fieldhouse, Kansas University's women's basketball players became bystanders too often for coach Bonnie Henrickson's liking late against Oklahoma State.
A drop-off in the Jayhawks' activity first reared its head on offense, when OSU switched to a 2-3 zone, but it got worse on a key possession in the final minute, on the way to a 65-57 KU loss.
The Jayhawks led by as many as 15 points midway through the first half. But by the final minute of the game, they trailed OSU (14-8 overall, 4-7 Big 12) by three. That's when LaShawn Jones, who scored 12 points and had nine rebounds off the bench, missed a layup, gathered the ball off the floor as the Jayhawks watched and put it through the net to give the visitors a two-possession cushion, 61-56, with 33 seconds to play.
The sequence, indicative of both OSU's 45-31 rebounding advantage and its 40-26 lead in points in the paint, left Henrickson peeved.
"It's on the floor. Chelsea (Gardner, 18 points) falls, (Jones) steps over Chelsea and grabs it, and we don't have anybody that goes and dives on it," the coach complained. "I don't know if they thought the ball was out of bounds. We were all screaming over there to grab it, and she just steps over Chelsea and grabs it and scores it."
From there, KU senior Asia Boyd missed a three-pointer. and OSU's Roshunda Johnson hit a pair of free throws with 17 seconds remaining to push the lead to seven.
Jones' last-minute bucket gave OSU 19 second-chance points.
Said Boyd: "I thought the ball was out of bounds."
Kansas freshman point guard Lauren Aldridge saw the play from nearby, on the baseline.
"I think everybody was kind of at a standstill for a minute, and then they were like, 'Oh, the ball's still in play.' It was kind of a weird ordeal," Aldridge said following her 14-point, five-assist night. "That's partly on us, too, though."
But KU had plenty more issues, especially late. Kansas had 13 turnovers, six in a five-minute span of the second half.
After Boyd (11 points, 12 rebounds off the bench) hit a three with 6:25 to play, the Jayhawks led 54-50. Then they had four turnovers in next three minutes.
"We can't score if we don't get shots," Henrickson said. "Then we don't score."
Indeed, Kansas went ice-cold late as its struggled to solve the Oklahoma State 2-3 zone. The Jayhawks, within one point of OSU with 2:57 to play, missed their final eight shot attempts and only converted one of their last 11.
Between OSU's balance — 16 points apiece from Brittney Martin and Roshunda Johnson, 13 from Liz Donohoe and 12 from Jones — and KU getting nothing late, the Jayhawks dropped to 13-11 overall and 4-7 in the Big 12.
Boyd said most of KU's miscues were self-inflicted.
"It was on us. I think if we could've held our composure a little bit better and, I don't know, made some shots at the end … " the senior said. "We'll learn for the next one."
Henrickson, who saw her team build a 23-8 lead against man-to-man defense in the first half, couldn't believe KU's mishandling of the zone once OSU switched things up.
"At some point," the coach said, "somebody's gotta knock down a shot or get an offensive rebound."
KU only secured three offensive rebounds in the second half on 18 misses.
"You can't stand and watch," Henrickson added. "There's gotta be a second effort to offensive rebound, and we certainly didn't have that."
KU will play Tuesday at West Virginia.