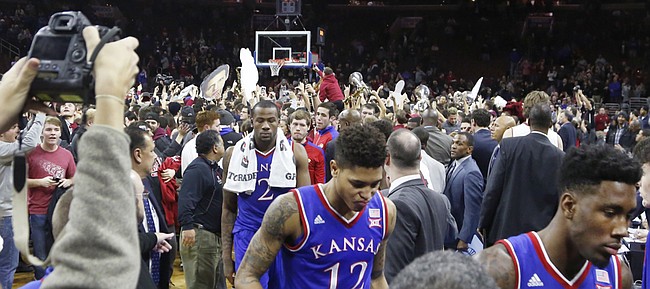 San Diego — On the third day before Christmas last season, Kansas University's basketball team suffered a 77-52 setback to Temple in Philadelphia.
For the KU players and coaches, it left a taste as sour as rotten eggnog and was as depressing as receiving a lump of coal in one's stocking.
"Temple was close to wrecking Christmas," KU coach Bill Self said of KU's second-worst loss in the 13-year Self era, tying a 25-pointer to Texas in 2006.
"That'd be coming a little too strong," noted the coach, who won't let one hoops game ruin such a holiday. "We haven't historically played a great game before break."
The Jayhawks (9-1)— who will meet San Diego State (7-5) at 10 p.m. Central time today in 12,414-seat Viejas Arena — also lost a pre-holiday-break game at Arizona, 84-67, during the 2008-09 season.
"We played at USC one year and were awful, just trying to get home before Christmas, but we won," Self said of a 63-47 win over the Trojans in 2011-12.
KU also won at Ohio State, 74-66, before break in 2012-13 and at Cal-Berkeley, 78-63, in 2010-11. In 2003-04, KU beat UC Santa Barbara and lost to Nevada in a four-team holiday tourney in Reno.
"I think the guys will have a different approach. It won't guarantee anything, but I think we'll have a chance to play well," Self said.
KU does have a reason to get extra fired-up for an Aztec team that is coming off a 52-45 home loss to Grand Canyon University on Friday. San Diego State came to Lawrence and defeated the Jayhawks, 61-57, on Jan. 5, 2014.
The Aztecs ended KU's 68-game home nonconference win streak.
"We lost, plain and simple," said KU junior forward Wayne Selden Jr., who scored six points that day off 2-of-8 shooting. Perry Ellis was 1-of-8 from the field for four points, while Jamari Traylor had three rebounds and two points. Frank Mason III hit four of eight shots (2-for-3 from three) en route to 14 points.
"We're excited for this game. We know what we have to do this year. It's a new team, new year. We're not dwelling on the past. We know what happened. We know what we want to do now," Selden added.
KU's Ellis said, "yes definitely," when asked if the Jayhawks can use what happened the last time as motivation. "We just want to leave, and be able to go home (for Christmas) and be happy. You don't want to have that little break and be upset with ourselves. We need to go compete at a high level," Ellis said.
San Diego State has also lost to Utah (81-76), Arkansas-Little Rock (49-43), West Virginia (72-50) and San Diego (53-48). The Aztecs have beaten Illinois State (71-60), San Diego Christian (71-61), East Carolina (79-54), California (72-58), Long Beach State (76-72), Biola (73-53) and Nicholls (84-47).
It should be noted four of the Aztecs' defeats easily could have been victories. S.D. State trailed Utah by two with :27 left, was tied with Little Rock with 1:44 left, was down one to San Diego with 1:16 left and up two on Grand Canyon with 2:59 remaining.
"They are terrific defensively. They labor to score. They labored to score two years ago when they beat us," Self said of a team that averages 65.7 points and allows 59.3 with a defensive-field-goal percentage of 35.5, sixth-best mark in the country.
"They lost to Grand Canyon. I don't understand that one, but they can really guard," Self added.
Freshman guard Jeremy Hensley averages a team-leading 13.4 ppg. SDSU's next four scorers average between 8.8 and 7.8 points per contest. Senior forward Winston Shepard is at 8.8 ppg, followed by freshman Zylan Cheatham (8.5 ppg), junior guard Dakarai Allen (8.3 ppg) and sophomore guard Trey Kell (7.8 ppg). Cheatham leads the team with a 6.2-rebound average, while Allen has 11 blocked shots and a team-high 11 steals. Kell has made a team-best 15 three-pointers, which is just ahead of Hemsley and Allen's 13 each.
"Their defense was so good two years ago," Self said. "They bothered us immensely with their post traps. We struggled scoring the ball the whole game. They are one of the best defensive teams we'll play all year."
KU averages 90 points a game while allowing 68.3.
"I told our guys we need this. We need to go somewhere that is not a neutral site," Self said. "I don't know the exact details. I was told it's one of the hottest tickets in the history of the program. It will be good for us to be tested in an environment like that."
S.D. State coach Steve Fisher on KU: "You can say they're the No. 1 team in the country, and most people who watch and have seen them would not bat an eye," Fisher told the San Diego Union-Tribune. "They're that good … good enough to win the national championship.
"I would say they're unselfish, but I would also say they're quick to shoot the open shot and they make it," Fisher added. "They make shots, so it helps with assists. If you throw me the ball and I miss a wide-open look, there's no assist. If it goes in, it's an assist. They make a lot of them."
This, that: Fisher is 346-190 in his 17th season at SDSU and 530-272 in his 25th season overall. Fisher and Self are two of 11 active head coaches to win an NCAA title — Fisher while at Michigan in 1989 and Self at Kansas in 2008. ... S.D. State is preseason pick to win the Mountain West Conference. ... The Aztecs lead the all-time series, 2-1. SDSU beat KU, 81-69, on Dec. 23, 1979 in San Diego. The following season, KU defeated SDSU, 79-66, in Allen Fieldhouse ... Kansas is 25-8 against current membership of the Mountain West Conference.