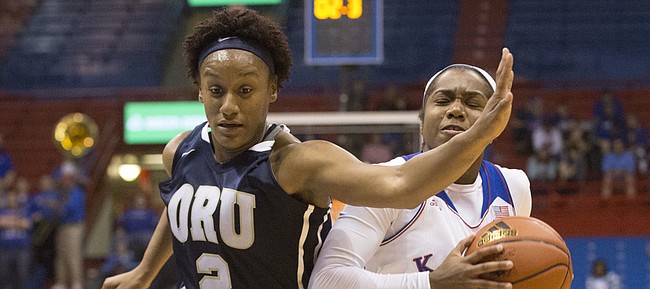 The offensive woes of Kansas University's women's basketball team continued Tuesday at Allen Fieldhouse — culminating in a 70-63 loss to Oral Roberts in the Jayhawks' final game before Big 12 play.
The Jayhawks (5-6) led 55-52 entering the fourth quarter, but were held to eight points over the final 10 minutes. It was Kansas' first loss to Oral Roberts in 13 tries and snapped ORU's eight-game skid.
Photo Gallery
Kansas women's basketball vs. Oral Roberts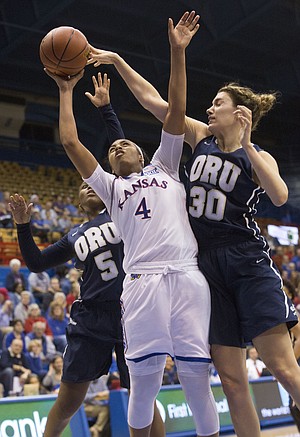 Images from the Kansas women's basketball game against Oral Roberts on Tuesday, Dec. 22, 2015, at Allen Fieldhouse. Despite taking an eight point lead into the locker room at halftime, the Jayhawks lost their second game in a row, falling to the Golden Eagles, 70-63. The loss drops Kansas' record to 5-6 on the season.
"At the Div. I level, much less the Big 12 level, you just cannot make offensive-execution mistakes to the amount that we do, and you can't miss defensive assignments to the multitude that we do," Kansas coach Brandon Schneider said.
After the first five minutes, Schneider thought that he might have found a solution to his team's offensive struggles. Schneider inserted freshman guard Jayde Christopher into the lineup at the point and moved sophomore Lauren Aldridge out to shooting guard, and the backcourt combo led Kansas to a 14-5 advantage heading into the first media timeout.
Christopher scored six of her eight points in the first five minutes and dished one of her four assists to Aldridge for a three-pointer from the wing. The triple ended up being Aldridge's lone field goal (1-for-8 shooting with four points) and left Schneider befuddled over how to shape his backcourt going forward.
"I think we have to re-evaluate a lot of plans based on how we played here in the first semester," Schneider said. "We'd like to play Lauren off the ball, because obviously she is maybe our best shooter on the team, especially from different spots on the floor."
Schneider took all of the starters except Aldridge out for a breather after the first five minutes — hoping to see another solid platoon off the bench in Chayla Cheadle, Aisia Robertson, Tyler Johnson and Timeka O'Neal — but did not get the same results.
"I thought we got off to a great start," Schneider said. "We went to our bench, and the level of play significantly dropped. You can't have that, in particular defensively."
Kansas' defensive miscues were especially glaring on the perimeter. The Golden Eagles (3-9) weathered the storm, thanks in large part to sharp shooting from behind the arch from guards Kaylan Mayberry (5-for-8) and Bria Pitts (4-for-10) — who combined for nine of ORU's 10 triples. Mayberry and Pitts scored 25 and 14 points, respectively, to pace ORU.
"We gave up nine threes to two players that in the scouting report, the entire scout was to take away their three-point shot," Schneider said. "In our terminology, that's not being assignment-correct."
Two of Mayberry's threes came during the Golden Eagles' 17-6 run to help ORU to its first lead at the 6:56 mark of the second quarter. Kansas did respond with its best defensive stretch to close out the first half — shutting out ORU for the final four minutes and 15 seconds before the break during an 11-0 run.
"We did a better job of keeping the ball in front of us," Schneider said. "Ball-screen defense was better. We finished possessions better. We didn't give up many offensive rebounds in the first half, and in the third quarter, I think we gave up four. It's just maintaining a consistent level of play, which starts with having a consistent level of focus."
The Jayhawks' 41-33 halftime edge disappeared quickly, though. Pitts drilled two three-pointers to key a 10-0 surge in the opening 2:13 of the third quarter. Kansas and ORU exchanged the lead four times during the third, but the Jayhawks' three-point cushion entering the game's final period was not enough. Cheadle, Robertson, Christopher and Jada Brown had a field goal apiece to account for Kansas' eight fourth-quarter points. KU shot 4-for-11 and committed four of its 12 turnovers in the fourth, while ORU did not cough the ball up at all in the second half.
"I just think we need to execute some offensive plays a little better," Kylee Kopatich, who led KU with 14 points and 11 rebounds, said. "I think we had some careless turnovers that can be easy to fix in the next game."
Kansas has lost four of its last five games as the team prepares for its Big 12 opener against Oklahoma on Dec. 30 in Norman, Oklahoma.