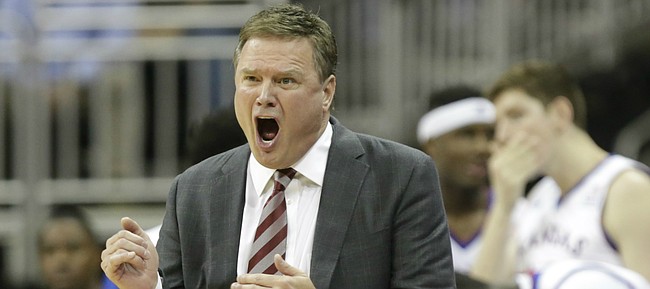 Kansas University takes a 16-0 all-time record against Big Sky Conference basketball teams into today's matinee against Montana, set for a 1 p.m. tipoff in Allen Fieldhouse.
The Grizzlies, who staked claim to a share of the conference title in 2014-15 — coach Travis DeCuire's first year at the Missoula, Montana, school — bring a 4-5 record to town.
It's a sub-.500 mark that makes some wonder if the No. 2-ranked Jayhawks (8-1) will be forced to sweat more than their fans, who will be trying to break the Guinness world record for "largest gathering of people wearing holiday sweaters."
The old mark of 1,175 was set at Loughborough University in the United Kingdom in 2014, presumably at a soccer match.
"Well, they (Griz) have been a little bit inconsistent, kind of like us," KU coach Bill Self said. "They've obviously had the last shot against Gonzaga at Gonzaga to send it to overtime and had the lead with a minute left, and then Gonzaga had a player, a freshman, make a couple of plays to actually give them the lead back."
The Grizzlies indeed fell to Gonzaga, 61-58, on Dec. 8 in Spokane, Washington, and followed that with a 92-62 loss to Washington on Dec. 12 in Seattle.
Montana has wins over Boise State (74-72), Carroll (70-61), San Francisco (62-50) and Great Falls (79-59) and also has lost to San Jose State (64-61), North Dakota State (73-53) and Pepperdine (69-63).
"They're very good and experienced inside, got a guy that can certainly score on the block and plays well beyond his standing height," Self said of 6-foot-8 senior Martin Breunig, who averages a team-leading 18.3 points and 8.8 boards.
"They've got some quick guys on the perimeter (including 5-10 junior Walter Wright, 10.6 ppg; 6-2 freshman Michael Oguine, 9.9 ppg and 6-4 junior Brandon Gfeller, 9.7 ppg)," Self added.
Oguine is looking forward to the opportunity.
"I guess up until this year I've been a fan of the game, obviously, and I've kind of been like a nerd, just following all the big teams and seeing what they're doing," Oguine said in an article on the school's official website. "We have a chance to actually step on the court against a big-time team like Kansas."
The last time the Griz defeated a nationally ranked team was in the 2006 NCAA Tournament. UM defeated No. 20 Nevada, 87-79, to advance for the first time in school history. The last time Montana defeated a ranked opponent in the regular season was at Stanford in 2002. The Griz defeated the Cardinal, 70-68.
"It's another opportunity to play in front of a crowd that will be energetic," DeCuire said. "It's another opportunity to play against a team that will be playing in the postseason, and we want to come back a better basketball team."
As for the task at hand ... "For us, we just have to be disciplined, and go out and not make mistakes. If we don't beat ourselves, we can play with anyone," DeCuire said. "That's the biggest thing for us to overcome is mental mistakes that cost us. If we can minimize those, we'll be fine."
KU and Montana have played just once before. The Jayhawks prevailed, 68-56, on Dec. 1, 1962, in Allen. KU's last game against a Big Sky team was this year's opener, a 109-72 victory over Northern Colorado on Nov. 13.
"It (KU basketball) reminds me of Montana basketball," DeCuire told the school's website. "A lot of high-low, some inside out. When you have what they have, which is good perimeter players around good post play, it makes you pretty difficult to guard."
Effective passer: KU freshman forward Carlton Bragg Jr. had assists on three straight baskets in the second half of KU's last game — an 82-67 win over Oregon State a week ago in Sprint Center.
"Yes, Carlton is a good passer. Carlton has good feel to pass the ball," Self said of the 6-9 freshman from Cleveland. "If there's a high-low, he's going to throw it — regardless if it's remotely open or not. I think he's proven that. But I do think he has good vision and I do think he has good feel. Landen (Lucas) is not a bad passer, but he (Bragg) and Jamari (Traylor) are probably our two best-passing bigs."
Next to Perry: Senior forward Hunter Mickelson has heard Self say KU's second big man in the lineup needs to be able to complement senior Perry Ellis.
"He's obviously a great scorer and a great player. So, obviously, if I have any opportunity to move the ball around and get him a shot, then that's kind of what I'll want to do," Mickelson said.
"I guess that's what the offense does naturally. But yes, I think when we play together, I think we complement each other well. It's just kind of how we play. Defensively, I can guard the biggest guy. That way, he doesn't pick up fouls, so he can be in the game longer."
This, that: Located in Missoula, Montana, with an enrollment of 13,358, Montana is 4-5 after its 79-59 home win against Great Falls on Dec. 15. ... Last year Montana won the Big Sky Conference regular-season title and advanced to the NIT. ... Montana is 4-0 at home and 0-5 on the road in 2015-16. ... Montana averages 66.9 ppg and allows 66.8 ... The Grizzlies make 5.9 threes per game and average 13.0 assists and 5.8 steals. They are second in the Big Sky Conference with a 64.4 free-throw percentage. ... Breunig's 61.5 shooting percentage is second in the Big Sky. ... Kansas leads the Big 12 in scoring offense (90.0) and field-goal percentage (.522). The Jayhawks also rank in the upper half in the league in scoring margin (fourth at +21.7), three-point field goal percentage (second at 46.9), three-point field goals made (second at 9.3), rebounding defense (third at 32.0), assists (second at 19.1), turnover margin (second at +4.7), steals (third at 8.4) and assist-to-turnover ratio (third at 1.6). ... Kansas will travel to San Diego State to face the Aztecs with tip-off slated for 10 p.m. (Central) Tuesday. The game will be televised on the CBS Sports Network. Kansas will return home for its final game of the 2015 calendar year, as the Jayhawks host UC Irvine at 8 p.m., Dec. 29, on ESPNU. ... KU, 11-time defending Big 12 regular-season champion, will then open conference play when it hosts Baylor on Jan. 2 at 3 p.m., on CBS.
Probable Starters
MONTANA (4-5)
F — Fabijan Krslovic (6-8, Soph.)
G — Martin Breunig (6-8, Sr.)
G — Michael Oguine (6-2, Fr.)
G — Brandon Gfeller (6-4, Jr.)
G — Walter Wright (5-10, Jr.)
KANSAS (8-1)
F — Perry Ellis (6-8, Sr.)
F — Hunter Mickelson (6-10, Sr.)
G — Frank Mason III (5-11, Jr.)
G — Wayne Selden Jr. (6-5, Jr.)
G — Devonté Graham (6-2, Soph.)