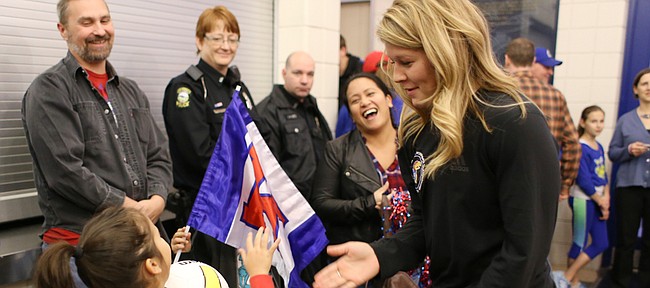 Omaha, Neb. — The Friday morning banquet inside the CenturyLink Convention Center provided all the proof needed to illustrate that Kansas University volleyball coach Ray Bechard and his staff have begun to recruit the types of athletes needed to compete at the highest level.
There, mere yards away from where the best season in school history ended Thursday night with a four-set loss to No. 4 overall seed Nebraska in the NCAA Final Four, sophomores Ainise Havili and Kelsie Payne walked across the stage and collected their American Volleyball Coaches Association first-team All-America hardware, the first two such trophies gathered by the surging KU program.
And while moments like Friday's or the upset of top-seed USC in San Diego last weekend or even the huge welcome-home celebration that took place at Horejsi Family Athletics Center last Monday and again on Friday represent sure signs that this is a program headed in not just the right direction but the best direction, the recruitment of big-time talent is nothing new. Landing it may be. And there's no doubt that there's more where Havili and Payne came from. But Bechard has never been afraid to go after the best players he could find.
Rewind to 2001-02, when Bechard made a trip north to Omaha to recruit a standout setter out of Papillion-LaVista High named Lindsey Hunter.
Hunter was one of the most recent stars to come out of the powerhouse program. Bechard sat in the Hunter home and spelled out exactly what Kansas could offer and why Lawrence would be a good fit.
As he spoke, fourth-grader Kelly Hunter was running around the house doing what fourth-graders do, laughing, giggling and entertaining for company.
Perhaps playing a hunch, or possibly showing off his ability to evaluate talent, Bechard leaned in to Hunter's mother, Lori, — who was a setter at Nebraska from 1977-81 — and said simply, "Should we just have her come over here and listen so I don't have to repeat this down the road?"
Bechard was talking about the fourth-grader, and there's no doubt that, had he been able to, the KU coach would've signed both on the spot.
Instead, Lindsey, who initially committed to K-State, wound up becoming one of the top players in Missouri history. And Kelly, nearly 10 years later, signed with the Cornhuskers and was on the floor Thursday night to help Nebraska knock off Kansas.
As much as the loss stung, simply playing in this year's Final Four and getting exposure as the best of the best figures to do wonders for Bechard's recruiting.
For starters, the match was televised on ESPN2, and everyone who's anyone in college volleyball circles spent the week talking about, breaking down and studying Kansas.
What's more, KU's semifinal loss to NU was played in front of the most fans ever to watch an NCAA volleyball match. Granted, the majority of the record crowd of 17,551 that packed CenturyLink Center was wearing red and roaring for the Huskers, but that little detail can — and likely will — be left out when Bechard is pitching what KU can offer future prospects.
The 2015 KU volleyball season forever will go down as one of the best in school history. These Jayhawks broke records, recorded a ton of firsts, made a deep and memorable tournament run and educated a basketball town on the alternate meanings of words like transition, block, assist and others.
KU football reached similar heights in 2007 and then quickly fell back to what it had always been. Don't expect the same from Kansas volleyball.
Yeah, Havili and Payne may have been the first two first-team All-Americans in school history, but they won't be the last.
Suddenly armed with a lot more to sell, Bechard's home visits on the recruiting trail might soon start landing some of those fourth-graders like Kelly Hunter.