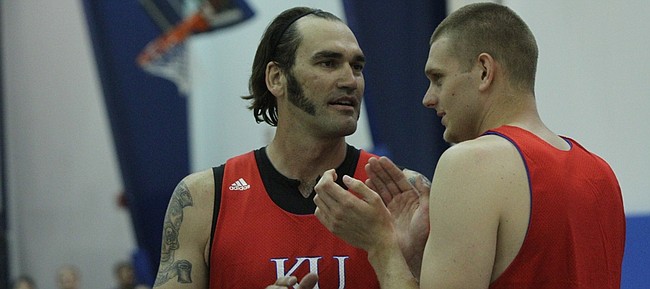 A pair of tickets to the 2015 NCAA Volleyball Final Four have been reserved for one of Kansas University's biggest, make that tallest, volleyball fans — Scot Pollard.
"I'm hoping he (Pollard) can make it. He's trying to make it," KU volleyball coach Ray Bechard said of the 6-foot-11 former KU and NBA forward, who lives in Indianapolis.
"We've developed a really nice relationship. Ashley, my daughter (and former KU volleyball player) did some nanny-ing for him when he lived across the alley from us. He's been great for our family over the years."
Pollard, the 10th-leading rebounder (33rd in scoring) in KU hoops history, said he's thrilled for buddy Bechard.
"So happy. He's an amazing man, husband, father, friend," Pollard said. "Dawn (wife) and I are flying to KC on Thursday and driving up to the Final Four (and 8:30 p.m., match against Nebraska in Omaha). I can't wait."
Pollard played volleyball at Torrey Pines High School in San Diego.
"I played 6-man indoor and beach, also," Pollard said. "I was player of the year in San Diego one year. I can't confirm, but I was told I was first player that has ever won Player of the Year in volleyball and basketball (in California high school school ranks). I got recruited to play both by some schools."
The volleyball dunker: KU sophomore Kelsie Payne, a 6-foot-3 right side volleyball hitter from Austin, Texas, ran track and played soccer in middle school, but never chose to compete in basketball.
She can, however, dunk a volleyball as shown in a video at the Web address http://ljw.bz/1JaK2HI.
"I had only done it with tennis balls before because my hands ... I can't palm a ball, but then I did it with a deflated volleyball and that was pretty cool," Payne said. "I was like, 'Maybe I should have tried basketball.' Oh well."
Stats of interest: KU sophomore guard Devonté Graham has 34 assists to six turnovers with 20 steals in nine games. Junior guard Frank Mason III has 50 assists to 13 turnovers with 18 steals.
Whose fault?: KU assistant coach Kurtis Townsend was asked about Gary Payton II's amazing dunk in the face of KU's Mason during Saturday's KU-Oregon State game in Sprint Center.
"That was really nice. Hey, that dunk, believe it or not was my fault," Townsend said on Monday's Hawk Talk radio show. "I was telling Frank to, what we call, 'down the ball screen on the side to let him go that way and force him into our big.' But there wasn't a big over there. I went and apologized to Frank after the game. He was telling me during the game it was my fault for telling him that. When I told him it was my fault, he said, 'Coach can you tweet that out because everybody will think I got dunked on?' I told him I'd do that for him, (but) I didn't even know how to tweet it," Townsend added with a laugh.