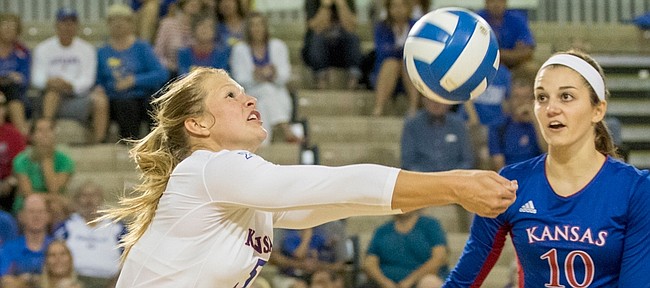 There were more than a couple of reasons why Kansas University juniors Cassie Wait and Tayler Soucie made sure to seek each other out as quickly as possible after surviving the dog pile that followed last week's Elite Eight victory over top-seeded USC that earned KU the school's first trip to the Final Four.
For starters, the two have roomed together their entire time at Kansas and Wait refers to Soucie as "my partner in crime."
But the partnership goes well beyond sharing a dorm room. Both are native Kansans. Both played high school volleyball for their fathers. Both committed to Kansas their junior years of high school. And both have played a big role in helping Kansas enjoy its best stretch of volleyball in school history.
Heck, even their fathers' names are about as similar as it gets — Darren Soucie coached Tayler at Osawatomie High and Darrell Wait coached Cassie at Gardner-Edgerton High — and the two share a page, front and back, in this year's KU volleyball media guide.
That's why, as euphoria swept across the entire Kansas contingent both on the floor and in the stands last week in San Diego, Soucie and Wait made sure to find each other first to celebrate the incredible accomplishment that both always believed would one day be possible.
"Right after the dog pile, we got up and looked each other in the eyes, gave each other the biggest hug and just said, 'This is it. This is what we've always wanted,'" Wait recalled. "It's pretty awesome. We've definitely always had that connection."
Added Soucie: "We embraced for a long time and then we both just looked at each other and said, 'I love you.' It was just an amazing feeling of, 'We did it. We fought so hard for this. And the fact that that just happened is insane.'"
Wait and Soucie are not the only native Kansans on KU's volleyball roster. Addie Barry (Topeka), Tori Miller (Derby), Anna Church (Fairway) and Ashlyn Driskill (Valley Center) also call the Sunflower State home, and they said the chance to represent their home state on a stage as big as the Final Four is a dream come true.
"I'm very proud of where I came from," Soucie said. "And I think it kind of helps people who come from other small towns in Kansas look at it and go, 'Hey, I can do that, too.' Because sometimes I think people in small towns can be overlooked."
The Wait-Soucie friendship began back in 2012, when they teamed, for one year, on the Kansas City-based club volleyball team known as the Asics MAVS.
Fast friends from the start, the two bonded over their small-town upbringing, their love of the game and, of course, the fact that both had committed to Kansas. Back then, they often talked about their future at KU and what they hoped to accomplish as Jayhawks. Now that they have done it, they want more.
"To make it to the Final Four is amazing," Soucie said. "But we all realize that we have an opportunity to do even more, and we're just trying to focus on the fact that we got to the Final Four and now we need to keep moving forward. This isn't the end. We're not there yet."
KU coach Ray Bechard loves that attitude. And he said some of it might come from Soucie and Wait being coaches' kids.
"I think they are used to coaching," he said. "They are used to good body posture. They're used to nodding and agreeing, even when they know, 'Hey, this coach is crazy,' dad or coach B or whoever it is."
Throughout the years, Bechard has been no stranger to landing high-level volleyball talent just a few miles from the Jayhawks' home gym. And his hope is that picking up some of the top local talent will continue well into the future.
Emily Brown (Baldwin), Jill Dorsey (Wellsville), Ashley Michaels (Wathena), Ashley Bechard (Lawrence), Jamie and Linsey Morningstar (Lawrence), Natalie Uhart (Lansing), Katie Martincich (Shawnee), Tayler Tolefree (Lawrence) and others all have played big roles under Bechard in helping to build the foundation of Kansas volleyball.
"We will always start our recruiting within driving distance of our campus, within this region," Bechard said. "Cassie Wait, Tayler Soucie, Addie Barry, Tori Miller, they're all examples of that. And (there were) players before them. Tayler Tolefree, a Lawrence High product, got this whole thing started back in 2012. So that will be a commitment we will always make. But at the same time, we want to be competitive at a national level and we'll go where we need to to do that."
---
---