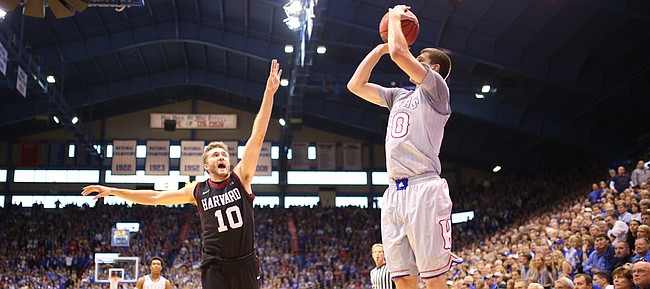 Svi Mykhailiuk sizzled against Chaminade, sinking six of 11 threes and scoring 18 points in Kansas University's Maui Invitational opener on Nov. 23.
Since then, however, the 6-foot-8, 195-pound sophomore from Ukraine has sunk just five of 21 threes in four games, including one trey in six tries in Saturday's 75-69 victory over Harvard.
"It was 'in and out' on a couple shots. I think it was (a) soft touch. I'll keep shooting and get my confidence back," Mykhailiuk said.
He was able to muster seven points Saturday, taking it to the hoop for two baskets.
"I'm trying to be more aggressive, trying to go inside more and get easy layups. I think it will help the team," said Mykhailiuk, who credits the 15 pounds he put on since last season for giving him the confidence to take it to the basket.
"Last year, I was not that strong. I was kind of lightweight. Now I'm getting stronger, (am) kind of faster. I try to use my weight and speed to go inside."
For the year, Mykhailiuk is averaging 9.1 points a game off 43.6 percent shooting. He has made 12 of 34 threes. The 1-of-6 three-point outing Saturday dropped his three-point percentage from .393 to .353 in one game.
"My field-goal percentage was not good. We won the game. That's what's better," Mykhailiuk said, noting, "We played pretty good 'D.' We did turn them over a lot of times (19). Defense helped us win the game."
KU coach Bill Self likes what he has seen from Svi this season.
"I think he's totally bought into the 'we' concept instead of 'me,'" Self said. "I think he's matured a bit. He's still the 34th-youngest player in college basketball, or something like that (at age 18). Think of all the freshmen out there (older than him) ... he's still a baby. But he's grown up quite a bit and matured quite a bit.
"He has a good stroke," Self added. "He's a good shooter but not quite pure yet. He could become a pure shooter, not far from the Brannen Greene level. Brannen's about at pure as I've coached. Svi's not quite there yet. His thoughts are good. I don't think his execution is always great. He thinks the right plays but gets sped up, turns over at too frequent a pace (eight turnovers, 10 assists). He just turned 18. He's going to be a great player."
Mykhailiuk said he and his teammates learned a lot in hanging on to beat a pesky Harvard team that rallied from a 16-point first-half deficit to tie the game in crunch time.
"It was a tight game, so it showed us who we are. We needed that game to see how we are going to play in a tough situation," Mykhailiuk said. "I think it was everybody (who stepped up late). We tried to be a good team and talk on defense and talk to everybody and get the stops."
Lynette in town: Self was thrilled former Jayhawk great Lynette Woodard was honored at both the men's game Saturday and women's game Sunday.
"She is awesome," Self said. "To think (her) high school, Wichita North, you have Barry Sanders, arguably as good a running back ever, and Lynette Woodard, arguably as good a women's basketball player ever and was the best women's player in the world at the time she was playing. Nancy Lieberman I'm sure would agree she (Woodard) was as good as anybody. More so than that, she's a sweet lady, great heart and personality, loves KU obviously.
"Everybody knows she's the first women's Globetrotter ever," Self added. "This is back when the Globetrotters were the Globetrotters. We have a lot to be proud of with her time at KU."