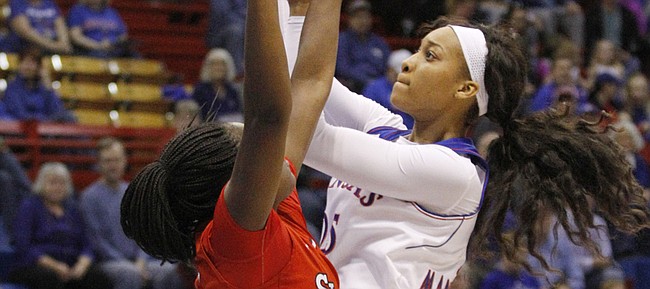 When Kansas University women's basketball coach Brandon Schneider surveyed the floor Sunday afternoon at Allen Fieldhouse, he saw a team playing with such pace and scrappiness that its opponent eventually got beaten into submission.
After watching visiting St. John's shoot 57 percent from the floor and score 26 more points in the paint than his Jayhawks, Schneider said the Red Storm's style led not only to an 86-71 KU loss, but also a "dejected" brand of offense in the first-year coach's first home loss.
Kansas turned the ball over 18 times, leading to 22 fast-break points for SJU. But Schneider didn't think the Red Storm's perimeter defense (Aliyyah Handford and Danaejah Grant each had four steals) was the most disruptive his team has faced so far this season, noting Memphis played similarly.
"They go down and get a layup, and we're taking it out of the net," Schneider said after SJU (6-1) scored 22 fast-break points and dominated points in the paint, 56-30, "and now instead of just coming right back and being aggressive and attacking them, we played dejected, we played slower. And now if you're going at 70 percent and they're going at 100, of course they look really disruptive. But I thought part of that was our inability to play with the kind of pace that we've seen our team play with before."
Both Handford (33 points) and Grant (26) torched Kansas (4-3), primarily by attacking off the dribble and getting SJU loads of quality looks. Schneider said both senior guards are future pros.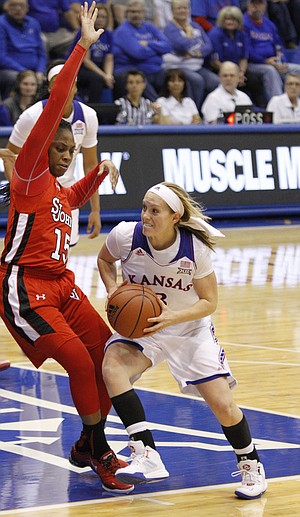 "We enabled them a little bit more than we would've liked," the coach added.
After KU surrendered a season high in points, Schneider found St. John's transition effectiveness and offensive rebounding — 11, for 17 second-chance points — the most troubling.
"Those are things," Schneider said, "I've always felt like you have a lot more control over, and we just really struggled to get them in the half court. And when we did, we didn't keep them off the glass."
St. John's won the battle of the boards 31-25, and although KU junior forward Caelynn Manning-Allen led the team with 15 points, the Red Storm limited the 6-foot-4 post player to five rebounds in 28 minutes.
Manning-Allen shot 5-for-7 from the floor. Sophomore point guard Lauren Aldridge (13 points on 4-of-11 shooting) and freshman guard Kylee Kopatich (10 points on 4-for-7 shooting) joined her in double figures.
Kansas hit 49 percent of its shots but couldn't match the easy offense so often created by St. John's.
"I think that we made a couple poor decisions," Aldridge said, before correcting herself, "quite a few poor decisions with the basketball that kind of exposed us offensively."
Kansas returns home Thursday night, to play host to UMKC.
KU legend Lynette Woodard honored: Kansas great Lynette Woodard, whose No. 31 hangs in the Allen Fieldhouse rafters, received a warm welcome from the announced crowd of 1,036 between the first and second quarters.
KU recognized Woodard — a four-time first-team All-American and the all-time leading scorer in Div. I women's basketball (3,649 points) — for winning the 2015 Naismith Outstanding Contributor to Women's Basketball Award.