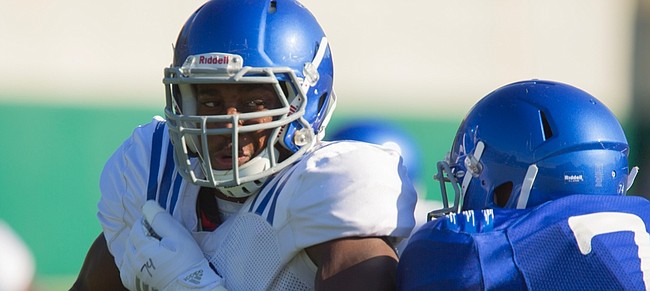 The extent of the information we've learned about Kansas University defensive end Damani Mosby — from the day he arrived on campus, and even a little before that — has started and ended with his ability as a pass-rusher.
But as it turns out, Mosby has focused on much more than sacking the quarterback.
"Right now, I actually put more emphasis on (the run)," Mosby said. "Don't get me wrong, I love my pass-rushing, but being that I'm more of a finesse guy because of the pass rush, the run is even more important. I gotta make sure I can handle those big guys when they come at me."
Mosby is not the only KU defensive end concerning himself with this dual-threat idea. He said he and fellow D-ends Ben Goodman, Anthony Olobia and T.J. Semke all had done extra work to be better prepared for the run and added that the interior defensive lineman had put in some extra work on getting to the passer.
There are all kinds of fundamentals that work against the run. But Mosby said strength, footwork and creating enough leverage to hold one's ground were the main things defensive-line coach Calvin Thibodeaux emphasized during camp.
"That's something coach Thibodeaux consistently says," Mosby began. "'Recreate the line of scrimmage, recreate the line of scrimmage.'"
This question, "Are we better against the run or pass," is one that every defense asks itself at the beginning of every season and does not stop analyzing and evaluating until the final week.
So where do the Jayhawks, who are replacing nearly every key contributor from the 2014 defense, stand?
Different answers come from different places.
Said Mosby: "Personally, I think it's too close to tell because we've been playing against each other for so long now. Against ourselves, we can do both pretty well. But how we do against somebody else is what we want to see, and we'll see in (eight) days."
Added junior safety Bazie Bates IV: "I think we're a complete defense. The D-line does its job, the linebackers do their job, and the DBs, we're always gonna do our job as well. We're very well coached.
"All we have to do is keep trusting what they're teaching us and go out there and do it on Saturdays."

Throughout camp, defensive coordinator Clint Bowen talked about how far the defense still had to go to be competitive. Truth be told, Bowen would probably struggle to be completely content even if he had the defense of the 1985 Chicago Bears. That's just his nature. And it's one of the reasons his players work so hard.
However, during the past few weeks, offensive coordinator Rob Likens got a pretty good look at Bowen's defense by trying to test his Air Raid offense against it. Earlier this week, Likens offered his answer to the question of run or pass.
"I think we do a great job of rushing the passer," Likens said. "We've got some really athletic guys up there, and coach Bowen does a tremendous job of helping those guys out schematically and putting them in the right places — as good as anybody I've ever gone against or been around."
Of course, regardless of their specific answers or what they have seen up to this point, the only thing that truly matters is what the Jayhawks show on Saturdays this fall. Right now, that's as big of a question as any, according to Likens.
"Every coach at this time is like, 'Oh my gosh, how good are we?' because you really don't know," Likens said. "I think we've had a pretty decent camp. The defense gets a chance to see your same plays, so it's like going against the same team every day for two weeks, and the defense should be ahead of the offense right now as far as results. But I think we've had some days on offense when we've made some plays and done some things that have given me some hope."