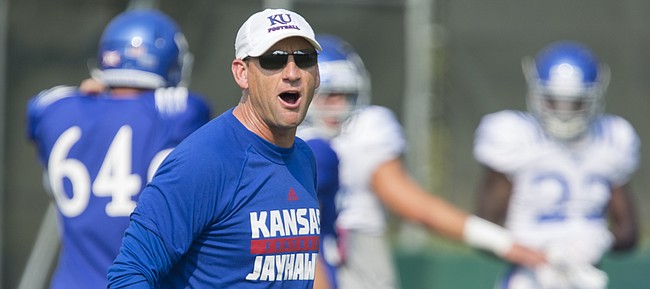 The opening game of the Kansas University football season is just nine days away. But you'd never know it from watching the Jayhawks work this week at practice.
"We are simulating a game week," first-year KU coach David Beaty said Wednesday. "It is a carbon copy. The tempo might be a little slower because we're doing a lot more talking."
The reason for all of the talking by Beaty and his coaching staff is to provide players, many of them inexperienced and unproven, as much knowledge as they can about how things go when the season arrives for real so they won't be overwhelmed.
Podcast episode
First-year Kansas football coach David Beaty speaks with media members Aug. 26, 2015, about the Jayhawks' first week of real game preparation, what a typical work day looks like at the KU football offices, freshman receiver Steven Sims Jr., how KU coaches use social media and much more.
To that end, Beaty's practice schedule this week has unfolded just as it would if the Jayhawks had a game Saturday.
Monday was a light day. Tuesday was the toughest day. Wednesday dealt with preparation and game-planning, and today was to be more of the same.
"We feel like we can become a lot better team by becoming a smarter team," Beaty said.
So the Jayhawks are leaving no details unaddressed.
From what time they'll watch film to what they'll wear and when and what they'll eat for pregame meal, the Jayhawks are treating this week just the same as they'll treat 12 of the next 13 weeks, with the only exception being the bye week in mid-September.
Beaty said having an extra week to prepare for the Sept. 5 season opener against South Dakota State — 11 a.m. kickoff at Memorial Stadium — gave the Jayhawks an advantage. Not only do they get extra time to conduct what Beaty referred to as "a dry run," but they also get an extra seven days to scout the Jackrabbits.
Beaty and company have put their heads together to come up with every possible scenario the Jayhawks could face on game day. Beaty called such scenarios "unusuals," and they include everything from fielding onside kicks and how to handle blocked punts to throwing wet balls in bad weather.
"We're stressing and expecting to be comfortable in uncomfortable settings," Beaty said. "And the only way you do that is by putting them in those positions."
Although many Jayhawks will not know how beneficial this week's simulation was until they go through live action next week, many of them said getting into a routine this week elevated their confidence.
"It does just because nothing surprises you," junior safety Bazie Bates IV said. "When Monday comes, everything should be super crisp."
The week also has been good for Beaty and his coaches.
"One thing we kind of forget is that we haven't been together as a staff for a preparation week since we've been here," Beaty said. "It's been a good week for us."
Added offensive coordinator Rob Likens: "Every day we try to simulate a game. Our coaches are standing in the box right now. We're trying to make it as game-like every single day in team period as we possibly can so you minimize all the chaos on game day."
No new RB
Despite an enormous amount of fuss made about a workout video posted to the Instagram account of KU student DeVonte Wilson, the Jayhawks do not have a new running back on the roster.
Wilson's videos, which show him running through a series of impressive workouts that display his raw athleticism and strength, went viral Tuesday and caused confusion over his athletic status.
However, Beaty confirmed Wednesday that Wilson, who sources said explored the idea of walking on in the spring, is not a part of the KU program and there are no plans to add him to the roster.
Walk-on lineman
JayhawkSlant.com is reporting that Timmy Hamilton, a three-star defensive end from Coffeyville Community College who initially committed to Arizona last November, has decided to join the Jayhawks as a walk-on.
Hamilton, who stands 6-foot-4, 250 pounds and has been clocked in the range of a 4.7-second 40-yard dash, had scholarship offers from Arizona, Illinois, Iowa State, Louisiana Tech and several other programs.
Hamilton grew up in the Wichita area and attended Kapaun Mt. Carmel High, and former KU defensive end Michael Reynolds, a Kapaun grad, praised Hamilton's pick of the Jayhawks on Twitter earlier this week.
Captains coming
Beaty said Wednesday the team would vote for captains following Friday's practice. On Tuesday, the Jayhawks voted for this year's leadership council, which functions as an extension of the captains. And Beaty said both groups would be crucial to the success of the program.
"This is their team," Beaty said. "So they're going to be heavily involved in the things that we do, within reason."
Beaty added that the title of team captain carried with it a great deal of respect and responsibility.
"We consider (that) to be one of the biggest (honors) you could ever receive in your college career, to be called a captain at Kansas," he said. "We've been talking to (the players) for a couple of weeks now to make sure they're not just putting a name down, that they're really thinking about it."
Rutgers coach in trouble?
According to a report from nj.com and NJ Advance Media, Rutgers football coach Kyle Flood could face a punishment as severe as a suspension or firing because of questions pertaining to contact with a faculty member about the status of one of his players.
The university is investigating the alleged violation and is paying particular attention to an email sent by Flood to a faculty member regarding the status of cornerback Nadir Barnwell, who, according to the report, is in danger of being declared academically ineligible.
The Jayhawks are scheduled to play Rutgers Sept. 26 in New Jersey.