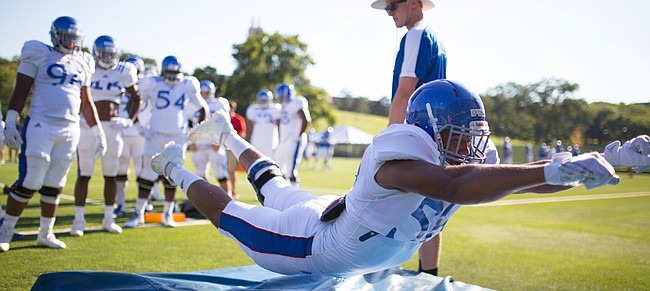 Fifteen.
On the surface, it's just a number. One more than the point total of two touchdowns, a date on a calendar, an age, a jersey number.
But for a trio of defensive ends on the Kansas University football roster, the number carries with it great meaning. It's the number of sacks it will take during the 2015 season to move past Ron Warner into first place on KU's single-season sacks list.
Given that last year's leader — Wichita native Michael Reynolds — finished with just seven and the Jayhawks, as a team, have topped 15 sacks just twice in the past five seasons, the number seems a bit daunting.
But when you consider that first-year KU coach David Beaty has called and continues to call the defensive-end position the deepest and most talent-rich spot on the squad, it makes sense that setting the record is at least on the minds of these pass-rushing menaces.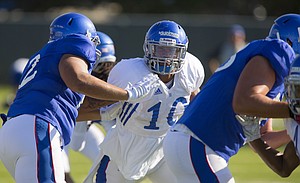 "Absolutely," said junior Damani Mosby when asked if knowing the record was important to him. "We all know we have team goals, but as far as a person whose job it is to get back into the backfield, I want to know who's got the most, and I want to beat that. Bottom line."

For Mosby and fellow juco transfer Anthony Olobia, a junior, the idea is to make a name for themselves immediately. For returning starter Ben Goodman, a senior who is feeling the urgency of one more crack at leaving a lasting legacy, the idea is to prove that his veteran status is worth something. Despite the bouts of trash talk that have unfolded between this trio — Mosby and Olobia are roommates at Jayhawker Towers, and Olobia and Goodman have roomed together during preseason camp — having multiple players who can put pressure on opposing quarterbacks is something new for Goodman.
Podcast episode
Kansas first-year coach David Beaty speaks with reporters Aug. 20, 2015, about which players are impressing these days at preseason practices. It's a long list, that includes defensive end Damani Mosby, safety Fish Smithson, wide receivers Steven Sims Jr. and Joshua Stanford and many others.
"It's definitely exciting," he said. "I've started 24 games (during my KU career), and I'm still a little nervous, like, 'Dang, these guys could come in and take my spot.' So they make me work even a little harder and we just compete."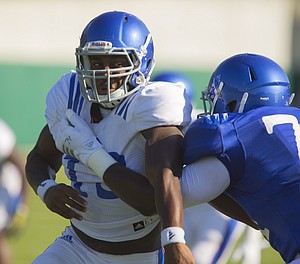 Sometimes, like Wednesday afternoon inside the Anderson Family Football Complex, that competition carries on away from the practice field.
Moments after wrapping up their meetings with the media, during which both Mosby and Olobia revealed one of the first things they did after seeing this year's media guide was flip to page 145 to see what the sack record was, Goodman and Mosby found themselves inside the sports-information offices.
When one KU official asked Goodman if he could give Mosby a ride to lunch after finishing a television interview, Goodman quickly said, "No. I want to tire out his legs so he can't get more sacks than me."
Mosby rolled his eyes in that "we'll see" manner, and the two shared a laugh about the whole thing as they walked out the door.
"That type of talk is between me and Ben," Mosby said. "Anthony knows he's in that conversation, too, but me and Ben talk a lot about who's gonna get more. Just a friendly conversation to make sure we're pushing each other. We'll call it a gentleman's bet. But it's definitely a big deal. Bragging rights. Let's stick with that."
For Goodman, who enters 2015 with five career sacks but finally is playing his natural position again, the extra energy that comes from jawing with Mosby and Olobia has been motivating.
"I really haven't had this kind of battle," Goodman said. "I used to talk noise to Toben (Opurum) when he played on the D-line, but that was awhile ago. Other than that, there's nobody I really trash talked with. I tell (Mosby) all the time that I'm gonna break the sack record, but he's gonna have double-digit sacks, too. I don't care if I have 0.5 more than him as long as I have more."
Olobia, who currently is working behind Mosby and Goodman on the depth chart at practice, said the conversations about leading the team in sacks go beyond this trio.
"We have that kind of competition with everyone," he said. "We have (defensive tackles) trying to tell us they're gonna have more sacks than us, and we're like, 'No, you're not. I'm a rusher.'"
If that last part is true, it figures to help the Kansas defense tremendously this fall. The only question remaining is, sack record or not, which one of these players is going to finish with the most sacks?
"When you get in those situations where you're smack talking somebody like that, it's just extra incentive, kind of like a challenge," Mosby said. "And that's a big deal to me. I'm gonna get him."
Added Goodman: "I know for a fact that I'm gonna have more sacks than him."