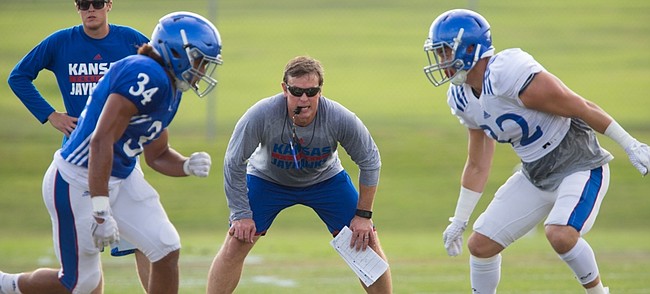 In the interest of identifying the gap between first- and second-team linebackers at the midway point of preseason camp, Kansas University linebackers coach Kevin Kane has come up with an additional competition for his group this week.
Instead of just handing out reps to everyone, critiquing missteps and praising memorable moments, Kane is going to start tracking them all. And he's going to post them on the wall in the meeting room for everyone to see.
In one column will be the good plays. In the other will be the bad plays. No gray area. No room for interpretation.
"It turns into a pretty good competition," Kane said Monday prior to the 11th practice of camp. "When you post it up every day, they'll start coming into your office saying, 'Hey, that's not right.'"
Right or not, Kane said the point of the exercise was to create more accountability. And it won't be something that's done live. Coaches will review the film after each practice and keep score that way.
"We're gonna tally it up, and guys will know where they stand," Kane said. "We tally it all up for a game. How many tackles did you have? How many assists? How many mental errors did you have? All that stuff matters."
Although Kane revealed that the battle at linebacker remains an open competition and that no starting spots had been handed out, he said he had an idea in his head of how the chart would look at the end of the week.
Podcast episode
Kansas linebackers coach Kevin Kane speaks with media members on Aug. 17, 2015, about the Jayhawks' weekend scrimmage and what he has seen thus far out of the KU linebackers, including Kyron Watson, Marcquis Roberts and Joe Dineen.
Whether it does remains to be seen, but simple math will determine whether the KU linebackers succeeded or failed this week.
"This is going back to when I was playing," Kane said. "Seventy-five percent is average, just like school. If you were to grade out above 85 percent, usually we're winning. So take that 4-1 mentality, and you better have four goods and one bad."
Sophomore Kyron Watson and junior Courtney Arnick already have pinpointed what it will take to be on the right side of the chart.
"With coach Kane, if you do the little things, he thinks that'll help you build and become a better player from just the little things," Watson said. "That's basically what I'm working on, just the little things. Take them up."
Added Arnick: "I would say he just wants us to play hard and have fun with what we're doing. It's a serious sport, and the tempo is pretty real, and the fatigue is real, but we're out there working, and they just really want us to have fun and also do our jobs at the same time."
Asked how he thought he might grade out during this week's competition, Arnick gave no predictions but revealed a goal.
"It's pretty much competition within ourselves and setting high standards and high goals," he said. "I'm trying to be on the positive side."
The fact that Kane is able to tinker with charts and gimmicks instead of worrying about counting bodies shows just how far the position has come in the past few months. With the addition of South Carolina transfer Marcquis Roberts, the health of junior Schyler Miles and the development and determination shown by young players like Watson, Joe Dineen and Osaze Ogbebor, Kane believes there are enough quality players in his room to deliver what the KU defense needs the linebacking corps to deliver.
"This past spring, I thought it was a problem," he said of depth at the position. "But now that we've had guys come in and guys adjust to our system, I feel a lot more confident coming out of fall camp than I did coming out of spring."