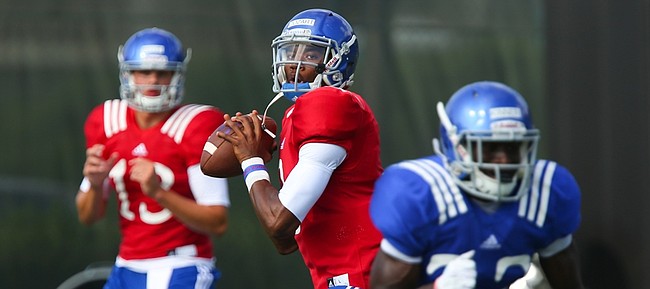 Three practices into preseason camp, Kansas University junior quarterback Montell Cozart needed just a few words to describe the Jayhawks' new Air Raid offense.
"Fun. Simple. Fast. And fun," Cozart said. "It's been really fun, and we've been able to put in our up-tempo and put a lot of pressure on the defense."
That kind of attack may have been enjoyable for Cozart and the KU offense, but the coaches and players on defense have not seen it the same way. In fact, defensive coordinator Clint Bowen even went as far as to act as a 12th defender a couple of times.
"We've been taking advantage of 'em," Cozart said with a sly grin. "It's getting to the point where coach Bowen is trying to hold the ball to let his guys get situated. He's literally standing over the ball like a ref. He can't do that. He ought to be on the sideline somewhere."
Photo Gallery
Kansas football practice Monday, August 10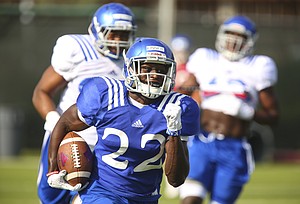 Images from the Jayhawks' practice on Monday, August 10, 2015.
Offensive coordinator Rob Likens was aware of Bowen's tactics. While he was inspired to laugh when thinking back on it, he also pushed across some legitimate sympathy.
"We have one of our managers as a referee," Likens said. "We actually put a striped shirt on him, which is hilarious. We have him stand over the ball, and I told Montell, 'Look, as soon as he gets off the ball, snap it, let's go.' Well, literally, as soon as he took his finger off the ball, (Montell) snapped it. ... So Clint was like, 'I gotta stop this.'"
Likens' job in KU's new offense — which continues to be installed in the manner of Day 1, Day 2, Day 3, repeat — is to coach the offense to go as fast as it can. That's why he wants Cozart snapping the ball so quickly and why Cozart said the players on his side of the line of scrimmage constantly look to the sideline for the OK to go faster.
"You look over and tell the signal guys, 'Come on, let's go, let's get going, we've got 'em on their heels,'" Cozart said.
However, when going against your own defense, it can be a little bit tricky to take too much of a relentless mentality. Likens knows that. And he sympathizes. Which is why he and Bowen are in constant communication about a way to practice that benefits both sides.
"What's tough about this offense is matching it up with a defense in the way that you practice," Likens said. "Defenses have to see all kinds of formations and then they have to adjust to how you line up. So they need to see guys shifting, moving, lining up and all that stuff and we're more concerned with go, go, go, go, go, fast, fast, fast, fast, fast, line up, snap the ball, let's go."
So far, with the start of the season still a few weeks away, the practice set up has worked well enough for both sides. And even if the faster pace has benefited the offense a little more from time to time, Cozart and Likens hardly seem to mind.
"We don't have much film on us right now," Cozart said. "We only have (what we did in the) spring, so we've been able to watch a couple of other offenses run this and you start to see our offense turn into what they're doing and it just gives you confidence."
Recruiting Kansas
Whether it led to scholarship players, walk-ons or both, Beaty and company really emphasized the state of Kansas on the recruiting trail this offseason. Beaty said his coaching staff's recruiting started and ended in state and helped put KU in a more favorable light throughout the state.
Podcast episode
First-year Kansas football coach David Beaty talks with the media on Monday, Aug. 10, 2015, about unproven linebackers, special teams progress, practicing on grass fields where past successful teams did, the defensive line, safety Fish Smithson, the importance of recruiting in Kansas and more.
"Our goal was to don the doors of every public high school in Kansas that played football and we actually stopped at some that didn't," said Beaty, who guessed that his coaches got into 474 different Sunflower State high schools. "That deal was fun for us. We started calling it the Kansas Blast and really put a focus on creating that Kansas identity."
Shepherd out
The Philadelphia Eagles announced Monday that former KU cornerback JaCorey Shepherd had suffered a torn ACL in practice and likely would miss the 2015 season.
Shepherd, Philly's sixth-round pick in this spring's NFL Draft, had positioned himself to start at nickel back for the Eagles before getting injured.