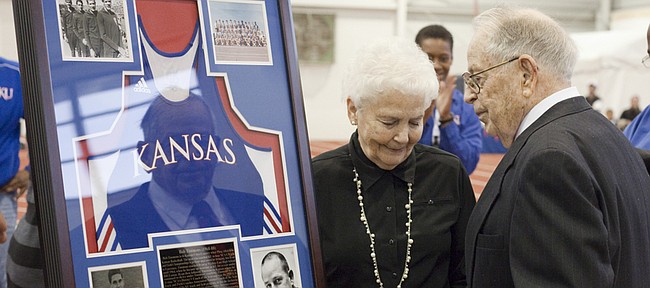 U.S. Olympic track phenom Jim Ryun and his wife, Anne, went to visit Kansas University track coaching legend Bob Timmons last April in Lawrence.
It was Kansas Relays weekend, one of Timmons' favorite times of the year. However, ailing health prevented the man everybody calls "Timmie" from attending the meet.
"He sat up and said, 'So good to see you here,'" Ryun told the Journal-World on Wednesday after issuing a beautiful tribute to his former KU and Wichita East High coach on Facebook.
Ryun was speaking — and writing — just hours after learning Timmons had died Tuesday night at the age of 91.
"It was a nice little visit that meant a lot. He was an amazing man. God gave him to me as a coach, mentor, friend and (Christian) brother. He inspired all kinds of athletes in high school and college. He was visionary. He looked to bring out the best in you," Ryun added.
Timmons nationally is known best for helping Ryun become the first high schooler to run a sub-4-minute mile (in 1964 at Wichita East) and then excel in college at Kansas University, where Timmons coached from 1966 to '88.
At KU, the U.S. Marine who spent time deployed in the South Pacific during World War II led his KU track and cross country teams to four NCAA titles and 31 conference championships.
His teams captured 13 Big Eight Indoor titles, 14 Outdoor titles and four CC league titles. He led KU to NCAA Indoor titles in 1966, '69 and '70. His '70 outdoor team tied for the NCAA title. His four NCAA crowns are most of any head coach in KU athletics history.
"He's one of those luminaries. If there's a Mount Rushmore of KU track and field, coach Timmons is on it," said Tim Weaver, meet director of the Kansas Relays from 2000 to 2006.
He recalls meeting with Timmons on a regular basis to trade ideas.
"Here's a guy who is in every Hall of Fame you can imagine," Weaver added.
Indeed, Timmons is in the National Track and Field Hall of Fame, Kansas Athletics Hall of Fame, Kansas Relays Hall of Fame, Drake Relays Hall of Fame, Kansas Sports Hall of Fame, Kansas High School Activities Association Hall of Fame and the U.S. Track & Field and Cross Country Coaches of America Hall of Fame.
"As far as I know he's received every award and medallion KU has to give and they probably should create one more and name it after him. His generosity to the university is exceptional," Weaver added.
Rim Rock legacy
Timmons designed and cultivated KU's challenging cross country course, Rim Rock Farm, on his own property — property he and wife Pat donated to KU several years ago.
"Bob Timmons is one of those legendary names, and it didn't end when he retired," Weaver said. "He's a Marine with a little history as a drill sergeant. He'd get on you and ride you and push you. You can't tell any Bob Timmons story without talking about his (5-foot-2) stature. For someone of his stature, Bob Timmons was bigger than life."
Tributes to Timmons and stories about Timmons came pouring into the Journal-World on Wednesday as news broke about his death Tuesday night after a long illness.
"Bob was in the Marines. He tried to stretch himself to get into the Marines," recalled Timmons' college fraternity brother and lifelong friend and fellow coach, Jerry Waugh. "He was afraid he wasn't tall enough. He did hanging and stretching. He about hung himself to serve his country.
"He was a guy who wanted to coach and worked hard at becoming a coach. He was a self-made coach. He was quite a guy. He was a principled person, one who lived by the rules."
U.S. Olympic pole vaulter Scott Huffman was one of several to say he "loved" his principled coach.
"He was the utmost moral, upright person. I love he was willing to stand for what he believed," Huffman said. "I watched the transformation of KU winning title after title, then the program fell on hard times. All the NCAA schools were recruiting foreign athletes. Timmie loved foreign athletes, but felt as a patriot we should support our athletes and help develop our own Olympic teams."
Thus Timmons would not sign foreign athletes to compete for the Jayhawks.
"Looking back, how many people do you know that are not willing to win at all costs and would take a stand on it?" Huffman said. "He was not a win-at-all-costs guy."
A mentor, too
Yet Timmons' teams won plenty.
And his athletes won on the national and international stage. He coached seven Olympians, 16 world record holders, 77 NCAA All-Americans and 24 NCAA champions.
"I ran into coach Timmons many times around town (the last several years)," Huffman said. "He'd say, 'Scott, you did well. Scott, you did well.' That always made me proud. He had Jim Ryun and all these guys. I was a little walk-on from Quinter. I was proud he still remembered me."
Former KU assistant athletic director Richard Konzem, who worked for Timmons as a student manager for four years at KU, says Timmons actually helped him map out his career.
"It was Saturday before the Relays my freshman year. We missed the mail time of the Lawrence post office to send out all the Relays entries and materials," Konzem said.
"Coach Timmons said, 'Does anybody want to go with me to the main post office in Kansas City?' I said, 'Sure.' It was a Saturday night. I was a freshman. I didn't have a date or anything. In that drive, Timmie set out for me my entire career path, established my goals in what I needed to do. That was the mentoring piece of coach Timmons. He helped people establish their goals and then would push you to get them done," added Konzem, who last visited Timmons on Sunday night.
Don Steffens, the public address announcer at the Kansas Relays each and every year since 1975, served as student-manager for Timmons at both Wichita East (where Timmons coached track and swimming) and at KU.
Steffens has known Timmons for 54 years.
"He taught me a lot about not necessarily being concerned about earning money, just trying to do a good job," Steffens said. "In 1965 I went to Track and Field News as an intern. His one piece of advice was, 'You've been watching your stopwatch all your life (timing athletes). When you get to work, don't worry about the clock. Just get your job done.' That's something I've never forgotten."
'A great inspiration'
Timmons was not a clock-watcher.
"I remember we had a cinder track in 1967. We had an extremely hard rain before the Relays. Timmie was up all night with a tractor and disc pouring kerosine on the cinders and lighting them on fire (to get rid of the water)," Steffens said.
"He'd finish at 4 a.m. It would stop raining, then at 10 on Saturday morning it rained again. All the work was wasted. But that was it. You go and do your work. It's what separated him from other coaches. He was a great inspiration, a wonderful guy. He had as big an impact on my life as my parents," an emotional Steffens added.
One of Timmons' student-managers at Wichita East was former Secretary of Defense Bob Gates. Konzem said he'd never forget the quote from Gates when he was named Kansan of the Year in 2010.
"Half a century later, as Secretary of Defense of the United States, I carry Bob Timmons' life lessons in leadership, integrity, discipline, motivating people, and treating all of them respectfully, to work with me every single day. Coach, thanks," Gates said at the time.
Timmons has touched members of KU's current administration and coaching staffs.
"The Kansas track and field family has lost a legendary figure in our history," current KU track and field coach Stanley Redwine said. "Coach Timmons led KU to unprecedented success during his time here and should be remembered, not only as a great coach, but as a great mentor as well. He continuously strived to set a standard of excellence that we fully recognize to this day. His contributions of our home cross country course of Rim Rock Farm also show what a truly dedicated Jayhawk he was. Our thoughts are with Pat, their children (Tammie, Rebecca, Priscilla, Dan) and the rest of the Timmons family (two grandchildren) during this difficult time."
"KU has lost a true treasure," KU athletic director Sheahon Zenger said. "Coach Timmons was one of the all-time greats. His legacy, though, does not end with championships and medals. His real legacy is how much he cared about his student-athletes and the University of Kansas."
Student champion
Another legacy: his concern about the athlete.
"His Student Bill of Rights was revolutionary. All the battles today with the NCAA system changing and lawsuits … some of the genesis of that came from Bob Timmons' little flat-top head," Weaver said of a document Timmons proposed to the NCAA giving student-athletes unprecedented rights.
Timmons also had interests outside of athletics.
"He painted, wrote poetry and sculpted guys like Al Oerter and Jim Ryun," Konzem wrote in an email tribute he sent to former KU athletes and friends of Timmons. "He was a COMPETITIVE Rascal (rascal was a favorite word of Timmons): And that led to Championships: 4 NCAA Titles, the most NCAA Championships by any KU Coach: 12 Top 5 NCAA finishes, 27 Big 8 titles, 24 Kansas State High School Championships in Track and Swimming
"He was also a man of FAITH: Quietly and humbly he led by example; he's thankful for the gifts he has been given and uses those gifts to the fullest extent In the end, there's only one word is necessary to describe Bob Timmons, He was our COACH," Konzem wrote.
Services for Timmons are pending and will be announced by Warren-McElwain of Lawrence.