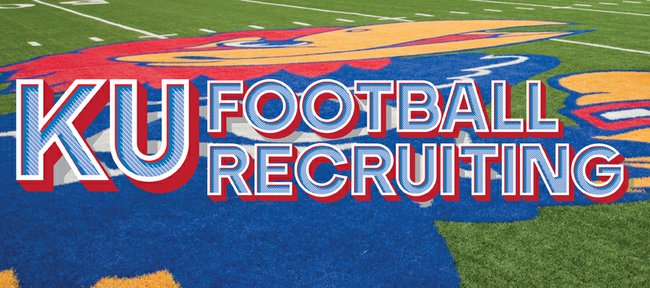 The updated Kansas University football roster, released Wednesday night, on the eve of the start of preseason camp, featured nearly two dozen new names and included a couple of notable omissions.
Wednesday afternoon, KU revealed that offensive linemen Joey Bloomfield and Junior Visinia were no longer members of the roster.
Visinia, a projected starter at guard with a promising future, has stepped away from the program altogether and Bloomfield, a third-year sophomore from Louisville, has retired from football but will remain a part of the Jayhawks' program.
Although those absences serve as a blow to KU's depth on the O-Line, the much-talked-about walk-on program that first-year coach David Beaty has aggressively tried to build may help offset the losses.
The new roster includes four new offensive linemen, all of whom joined the program as walk-ons. Beaty said last month at Big 12 media days in Dallas that he was extremely pleased with the way the walk-on program had come together and added that he expected a handful of non-scholarship guys could help the Jayhawks immediately.
Several of the names officially added to the Jayhawks roster Wednesday night were names that had come up on the rumor mill throughout the offseason. Research and conversations with several people close to a few of these players have indicated that all of them arrived on campus as walk-ons but could be in position to earn scholarships at some point in the future provided they perform well in camp and practice and fall in line with KU's unofficial slogan of "earning it."
The Jayhawks officially kick off preseason camp Thursday at 5:30 p.m.
Here's a quick look, in alphabetical order, at the most notable new names added to the KU football roster. The list includes seven wide receivers, four linebackers, four offensive linemen, three defensive linemen, three defensive backs, one quarterback, one place kicker and one punter.
DE Mazin Aql — 6-2, 231, Fr., Blue Valley High
PK Nick Bartolotta — 5-7, 195, Soph., College of DuPage
WR Chris Bell — 5-10, 171, Fr., The Woodlands (High), Texas
LB Jacob Davis — 6-2, 242 Wichita Northwest, previously committed to North Dakota State in 2012
LB Kendall Duckworth — 6-1, 205, Fr., Lely High, Naples, Florida
QB Deondre Ford — 6-2, 200, Jr., Dodge City CC; originally from Waco, Texas, has been on campus all summer
WR Deante Ford — 5-10, 165, Fr., Ridge Point High, Missouri City, Texas (same hometown as Nick Harwell)
WR LaQuivionte Gonzales — 5-10, 175, Jr., Texas A&M; transfer is on scholarship and will sit out the 2015 season
P Ruben Guzman — 5-8, 190, Sr., University of Hawaii transfer
LB Hudson Hall — 6-2, 220, Fr., Westlake High, Austin, Texas
OL Larry Hughes — 6-7, 260, Fr., Timber Creek, Texas
DB Hunter January — 6-3, 175, Fr., McGregor (Texas) High, former quarterback

OL Jackson Jenkins —6-4, 308, Fr., Bishop Miege High

OL Beau Lawrence — 6-5, 295, Fr., Blue Valley Southwest, nephew of former KU standout David Lawrence
DL Jason Nix — 6-2, 232, Soph., Rockhurst High
WR Quincy Perdue — 6-3, 210, Soph., University of Alabama-Birmingham transfer
DB Mason Ramirez — 5-11, 205, Fr., Round Rock (High), Texas
OL Mesa Ribordy — 6-4, 245, Fr., Louisburg High
WR Eric Rivers — 5-9, 170, Jr., Bowie High, Arlington, Texas.
LB Marcquis Roberts — 6-1, 216, Jr., South Carolina transfer
WR Joshua Standford — 6-1, 200, Jr., Virginia Tech transfer
OL Hunter Saulsbury — 6-4, 278, Fr., Blue Valley West

DL Taylor Stine — 6-0, 265, Fr., Dallas Jesuit High