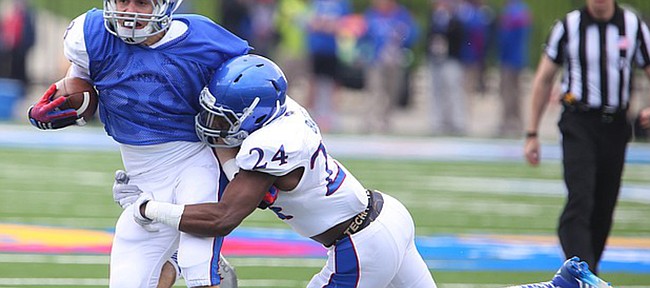 As many as 40 new players, including walk-ons, could join the Kansas University football program in June, when summer school and summer conditioning start. Once practices resume, coaches hope a number of them will surprise with their level of maturity, game-readiness and talent.
Others who haven't yet played in a game for Kansas had a chance to show their stuff to the new coaching staff in 15 spring practices, including Saturday's spring intrasquad game.
A look at seven such players who helped their bids for fall playing time during the spring, listed in alphabetical order:
Bazie Bates, Jr., S: The junior-college transfer had a game-high six tackles, five of the solo variety, Saturday. Bates arrived as an undersized safety but said he has put on 20 pounds. "In juco, you don't really lift like this, nor eat like this," he said. "It's a blessing."
For the moment, Bates is behind Fish Smithson on the depth chart.
"He comes downhill, and he will hit you," head coach David Beaty said. "He can get you on the ground. He runs all over that field, and he will strike you. ... Fish ain't going to give up that spot easy. It's not going to be overnight for Bazie. He's going to have to earn it."
Ke'aun Kinner, Jr., RB: For a little guy, he can get yards up the middle and has plenty of speed to turn the corner for big gains.
Damani Mosby, Jr., DE: Has the quickness to get to the quarterback and to running backs trying to break to the outside. Created quite the buzz early in camp.
Anthony Olobia, Jr., DE: Gets off the line of scrimmage quickly and brings high ceiling as a pass-rusher.
Tyler Patrick, Fr., WR: Made good use of red-shirt season and has impressed staff with toughness. He's not a big target or especially fluid, but he's a big-play threat catching it deep or short because of his speed and determination.
Brandon Stewart, Jr., CB: He ranks as team's top corner, one of the thinnest positions. Juco teammate of Bates, he originally committed to Cal. Asked why he changed his mind, he answered with two words: "David Beaty."
Kent Taylor, Jr., TE: Big and and fast, he has a high ceiling. If he can find a way to bring the same focus level every day, and then every play, big things could happen with Florida transfer.
As important as any spring development, Beaty showed he doesn't play favorites regarding team rules. Running back Corey Avery and wide receiver Rodriguez Coleman, as talented as anyone on the roster, are serving indefinite suspensions.