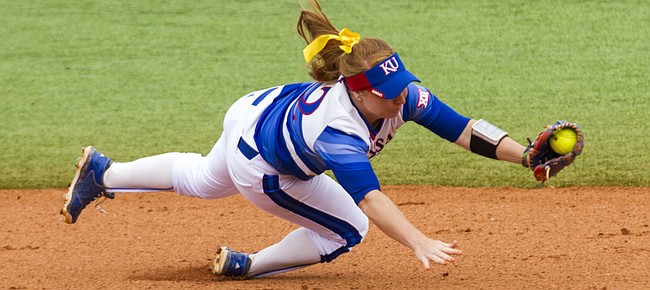 On most days, loading the bases with no outs in the bottom of the seventh inning means a softball team just needs one or two positive at-bats for a tie or a win. However, when Kansas University's first three batters reached in the final frame Sunday afternoon at Arrocha Ballpark at Rock Chalk Park, the Jayhawks would have needed a grand slam and then some to make up their deficit.
A fielder's choice off senior Maddie Stein's bat and a sacrifice fly from freshman cleanup hitter Daniella Chavez allowed KU to score two last-ditch runs against No. 5 Oklahoma, but that wasn't nearly enough in a 7-4 loss.
"That's tough to do," Kansas coach Megan Smith said of scoring five runs, even after loading the bases with no outs. "We got ourselves in a hole. We fought at the end there, but they bring their No. 1 pitcher (Paige Parker, 23-5) back in. It's tough to claw yourself out of that big of a hole."
Junior Briana Evans and sophomore Taylor McElhaney walked before junior Chaley Brickey singled to give Kansas (35-10) some semblance of a comeback in the seventh. But after Evans and McElhaney scored, OU's Parker coaxed senior Chanin Naudin into a pop fly to right, and Parker struck out freshman Jessie Roane to end the game and give Oklahoma the series.
If the Jayhawks really wanted to put pressure on the Sooners (42-7), they needed to do so earlier. Brickey gave Kansas just its second of four hits in the bottom of the fifth, when the junior smacked a double to the right-field gap, scoring Evans.
Brickey slid into second base, popped up and let out a celebratory yell while looking to the KU dugout. It seemed at the time Kansas, then down 3-1, finally might be on the verge of something big, even with two outs.
"I felt like if I could get them fired up from that," the leadoff hitter from Haltom City, Texas, said, "I thought the game was gonna be different."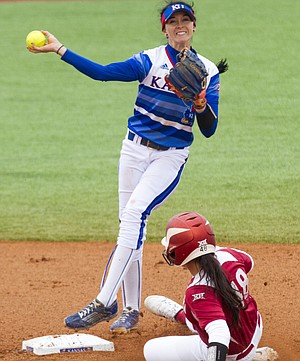 Nothing materialized, though, as Parker (six innings, two hits allowed) got Stein to pop the ball up high in the infield.
"We weren't getting the timely hits when we needed them," Brickey said after going 2-for-4 with an RBI. "We definitely had the fight. It just wasn't really falling for us."
Smith agreed the game took on a much different feel than the previous one, when KU had "no fight at all" in a 13-0 Saturday blowout. And though OU hit Kansas pitcher Alicia Pille 10 times, the coach thought the senior ace did well to keep the ball in the park and limit a potent lineup — OU's first five hitters came in batting above .400 — to one extra-base hit.
Even if the odds were against them, Smith appreciated that the Jayhawks gave themselves a chance to win.
"Against a team like Oklahoma," she said, "that's all you can ask for."
Schedule change
Kansas was scheduled to conclude its nonconference season with a home game Tuesday against Wichita State.
But WSU overscheduled and was forced to cancel.
Thus, KU will be idle until a Big 12 series Friday through Sunday against Baylor at Arrocha.
Oklahoma 210 004 0 — 7 10 3
Kansas 000 011 2 — 4 4 1
W — Paige Parker, 23-5. L — Alicia Pille, 21-4.
2B — Shelby Pendley, OU; Maddie Stein, Chaley Brickey, KU.
Kansas highlights — Brickey, 2-for-4, RBI; Stein, 1-for-3, RBI; Daniella Chavez, 1-for-2, BB, RBI.