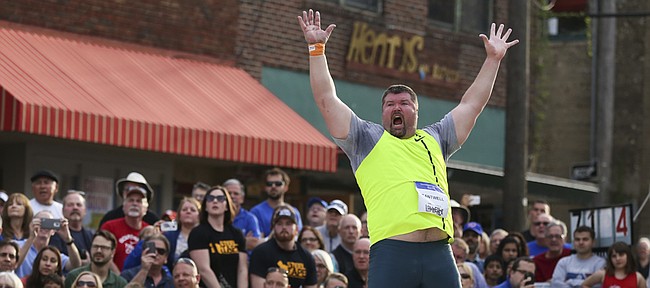 One never really knows what to expect out of the Downtown Lawrence Shot Put. Not even its defending champion, Christian Cantwell.
Not once before had the fifth-annual springtime spectacle turned out a repeat winner. Nor had the Eldon, Missouri, native and former Mizzou Tiger ever competed in Kansas University territory without getting showered with boos.
Up was down, black was white, and the pro-KU crowd cheered on Cantwell Friday at Eighth and New Hampshire, as he successfully defended his crown.
"I was actually surprised," Cantwell said after his mark of 70 feet, 6.5 inches defeated 2012 champion and crowd favorite Reese Hoffa (69-8.125). "I wanted it. I was like, 'Come on. Give it to me.'"
Photo Gallery
2015 Downtown Olympic Shot Put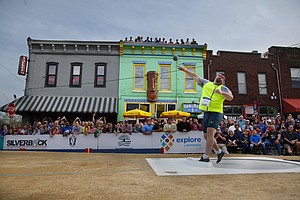 View a gallery of images of the competition during the Downtown Olympic Shot Put event at the corner of Eighth and New Hampshire streets.
The 6-foot-5 former Olympian might have won the Lawrence spectators over with his 2014 championship, coming off two elbow surgeries and a year off. It also helped that Cantwell's first throw — the initial attempt of the entire competition — exploded into the overcast sky and landed with a thud at a mark that wouldn't be outdone in the ensuing 47 attempts from himself, Hoffa, Ryan Whiting, Tim Nedow, Cory Martin, Nedzad Mulabegovic, Justin Rodhe and Kurt Roberts.
Cantwell pumped his fist after opening the event in spectacular fashion. But he assumed better heaves were ahead.
"I actually thought I was gonna throw it quite a bit farther after that one," the victor said.
Hoffa came closer than anyone on the second throw of the evening, but couldn't muster a superior mark, even with the fans lining both sides of the street and watching from beyond the pit often chanting, "Reese."
Cantwell had the title sealed before closing the competition with his sixth throw, but still hoped to eclipse 70-6.5. Instead, that exact number bookended the festivities for the 2008 Olympic silver medalist. He said he had "lost it" by that point, because it is early in the competitive season and he's just "grabbing and ripping" at this juncture.
"That last one was really good," Cantwell clarified. "Just didn't have any stank on it."
Now 34, the two-time Olympian is trying to pace himself these days as he works toward another possible appearance in the 2016 Games, in Rio de Janeiro.
"All my good years have followed years of not being hurt," Cantwell said. "That's what I'm looking for."
Suddenly a man of the people at the Lawrence competition, the one-time downtown villain loves the event because of its uniqueness, which allows him to mix it up and get close to the crowd.
"When you've been doing it for this long," he said, "you need something to juice it up."
Cantwell, who threw a personal best of 73-11.5 in 2004, liked his power during his title defense. And, in his mind, that's all that matters.
"For me, and being old, I've still got some good tread on the tire," he said. "I think I can still throw super-far. I think I can still throw PR. It's whether or not my body lets that happen."
2015 Downtown Lawrence Shot Put
Christian Cantwell, 70-6.5; 2. Reese Hoffa, 69-8.125; 3. Ryan Whiting, 69-2; 4. Tim Nedow, 67-3.5; 5. Cory Martin, 67-2.5; 6. Nedzad Mulabegovic, 65-6; 7. Justin Rodhe, 64-9; 8. Kurt Roberts, 63-11.5.