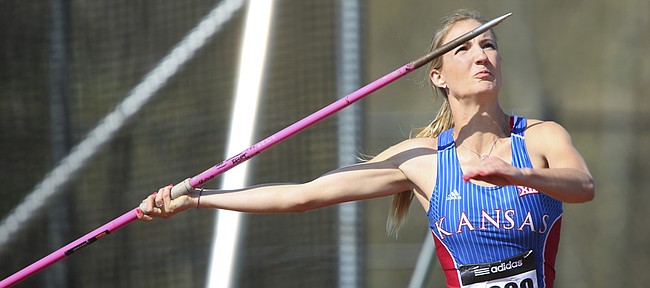 Lindsay Vollmer had just set a Kansas Relays record Thursday at Rock Chalk Park, with her heptathlon-winning score of 5,767 points. Instead of basking in the victory or pondering her place in Kansas University history, though, the senior's mind entered an inner-debate.
Part of her wanted an ice bath. Or maybe a nap. But after back-to-back days of intense competition, and winning six of the seven heptathlon events, the part of Vollmer that wanted to devour Chinese food won out.
"The meet, it's pretty stressful and nerve-wracking," Vollmer said after becoming the first KU athlete to win the heptathlon since Candace Mason in 1997. "You just want to go do something where you're not thinking, you're having a good time with your friends and family and celebrating."
It took until the final event of the two-day trial for Vollmer's body to finally show any signs of fatigue. After winning the long jump (19-11) and javelin (139-8) on the second day of the heptathlon, she finished eighth in the 800 (2:26.34) — six spots behind her KU teammate, sophomore Talia Marquez (2:16.57).
"It's kind of weird, because you feel so tired up until the last event," said Vollmer, whose point total ranks third all-time in Kansas history, "and then when you're done it's like you almost get this other burst of energy."
A pre-community health major from Hamilton, Missouri, the 5-foot-10 senior needed that second wind of sorts to propel her, after a celebratory lunch, back to KU's campus.
"Well, all right. I'm done," Vollmer said of the strange feeling of breaking records out at Rock Chalk Park while the vast majority of the KU student body plugged away through a typical Thursday. "I have to go to class now."
Asked if she felt tempted to use her accomplishment as a reason to skip out on responsibilities on a beautiful spring day, Vollmer said she had assignments to turn in, and there are so many weekends when track athletes miss classes it was in her best interest to return to her normal school-day routine.
"It's really easy to get behind," she said of the student-athlete grind.
The 2013 NCAA champion in the heptathlon, Vollmer entered the Kansas Relays with the primary goal of qualifying for this year's nationals.
"In the past, I've had that pressure of having to get that qualifying mark at Big 12," she said, "and it puts a lot of pressure and strain on it."
That worry no longer exists from here on out, after she relaxed enough the past two days to reach her goal — even though her competitive nature left her unimpressed with her marks in each event.
The owner of six of the top nine heptathlon scores in KU history, Vollmer felt honored to set a Kansas Relays record. An injury her sophomore year kept her from competing in her hometown heptathlon, and in 2014 she elected to take on that event at the Texas Relays.
"It's cool my senior year, my last Kansas Relays," she added, "to be able to go out there and do it."
Cooler temperatures and wind made it difficult to focus Wednesday for Vollmer, but Thursday brought its own challenges.
"You're tired from the day before," she explained. "I feel like Day 2 your nerves kick in a little bit more."
After overcoming it all, Vollmer hoped to finally get that nap before she began studying for a test.
"Back to it," she said.
http://www.youtube.com/watch?v=x5EzcSTvMcA