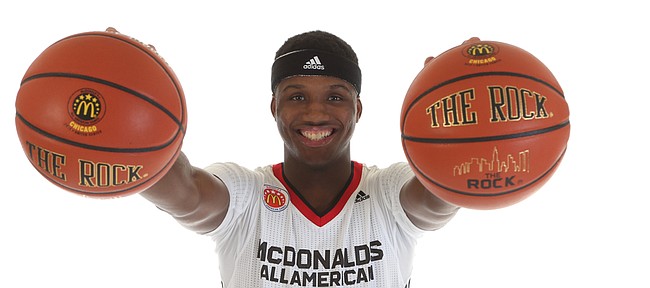 Kansas University basketball coach Bill Self was elated to receive Carlton Bragg's scholarship letter of intent early Wednesday, the first day of the monthlong spring signing period.
The 6-foot-9, 225-pound senior power forward from Cleveland's Villa Angela St. Joseph High, who is ranked No. 15 nationally by Rivals.com, is expected to play major minutes for the Jayhawks his freshman campaign.
"Carlton is a legitimate 6-foot-9 inch scoring- and shooting-type of power forward," Self said Wednesday. "Certainly, he's one of the more skilled big guys that we've signed since we've been here."
Bragg, who committed to KU over Kentucky, Illinois, UCLA and Arizona back in January, should be able to help both on the inside and outside.
"He has a good enough jump shot to pull the bigs out, knock down threes. He can run the floor," Bragg's mentor, former VASJ assistant Michael Graves, told the Journal-World after Bragg committed to KU. "Sort of like a Kevin Love-type person. He can rebound and bang but also hit the three. He's kind of light so he can get up the floor."
Graves' high school coach, Babe Kwasniak, notes: "He has been compared to Kevin Durant. I think that's obviously an unbelievable comparison, but his game is Kevin Durant-like. They are getting a guy who can really shoot the ball. They are getting a guy who plays with a lot of energy. More importantly, they are getting a great young man. He's a great kid. He's gregarious, fun-loving, charismatic."
Bragg says KU is getting "an energetic guy. I can play inside/out. (I'm a) pick-and-roll, pick-and-pop guy. I can shoot the 20-footer. I can shoot inside, more of an all-around player."
Bragg averaged 21.3 points, 8.0 rebounds, 2.0 blocks for the state-champion Vikings (23-4) and earned Ohio Div. III player of the year honors
"He's a really good kid. He has a special smile, smiles at everybody," Graves said. "He's a happy kid on and off the court, a hard worker. Anything he puts his mind to, he'll get it done."
Self credited KU assistant Norm Roberts for doing "a great job in working with Carlton and his family to become part of our KU family."
KU has three scholarships remaining in recruiting. Self said he's in the market for an impact guard and big man.
Mack on market: The Carolina Wolves AAU team tweeted that KU has asked about former VCU commit Tevin Mack, a 6-6 senior forward from Dreher High in Columbia, South Carolina. Others to inquire about the No. 78-rated Mack: North Carolina, South Carolina, Georgia, Alabama, Marquette, Texas, Clemson, Kansas State, Georgia State and UCLA. KU also has reportedly reached out to former VCU commit Kenny Williams, 6-2 senior combo guard from Bird High in Chesterfield, Virginia, who is ranked No. 97 by Rivals.
Wiggins update: Minnesota Timberwolves rookie Andrew Wiggins said Wednesday he would play for the Canadian National Team in the FIBA Americas qualifier in August in Monterrey, Mexico.
"I think I'll be ready for it," former KU player Wiggins told twincities.com.
KU coach Bill Self said at Monday's season ending banquet that KU's World University Games team might play the Canadian National team in a pair of exhibitions in Sprint Center before the Jayhawks head to South Korea in late June. No details have been announced. It is not known if any Canadian all-star squad the Jayhawks played would include Wiggins.