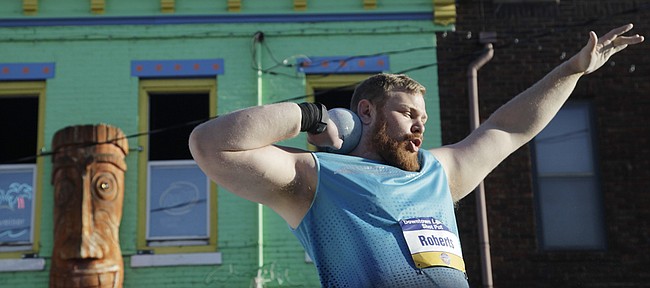 Late-blooming, world-class shot put athlete Kurt Roberts has competed all over the world, thanks to his ability to launch a 16-pound lead ball long distances.
Roberts competed on the lawn of the state capitol building in Sacramento, California, and even in an event played out in front of Buckingham Palace.
"That was really cool as well," Roberts said of the competition in London, in the shadow of royalty, "but the Kansas street meet is absolutely my favorite meet to come to."
Why?
"I don't know, maybe I'm biased because I remember when I was just out of college and not on the circuit yet, watching a sped-up video of them building it right in the middle of the street," Roberts said of Journal-World photographer Nick Krug's time-lapse video of the transformation of Eighth Street, between New Hampshire and Mass, into a field of world-class competition. "The first year I competed in it, it was in a horse barn. Then last year, to be throwing on the street, it was just awesome."
Roberts, No. 10 in the world rankings, joins No. 1 Reese Hoffa, No. 6 Christian Cantwell and No. 7 Ryan Whiting in Friday's fifth-annual Downtown Lawrence Shot Put. They are the top four Americans in the rankings. Roberts is the lone among that group who has not won in Lawrence. He finished second last year to Cantwell, falling five inches short of the winning throw of 70 feet, 1 inch.
For spectators and competitors alike, the downtown event is 180 degrees from the typical shot put at meets at which the event takes place in the infield of a track and witnesses try to follow what's going on from distant bleachers.
Roberts said he is not discouraged by the distance he's throwing the shot in workout sessions because there is no simulating the atmosphere for Friday's event, which starts at 6 p.m.
"To me, this is one of the coolest things track and field has done, catering to the people by having them right on top of you, and watching from the roof," Roberts said. "The fans feel like they can reach out and touch you. The closer the people are to you, the more energy you feel, and you feed off it. I'll train about three feet under where I'll compete, just because with people watching and the adrenaline flowing, that same throw goes three feet farther. It's crazy how much fun it is."
The competitors feed off each other as well.
"Throwing is interesting," Roberts said. "We're out there cutting each other's throats, but once somebody puts a mark out there, it takes the tension off the entire field. Last year at the (Steve Prefontaine Classic), no one was throwing far, then on Round 4 or 5, Reese threw one out there, and weight was lifted off the whole field. It becomes contagious."
A native of small-town Corning, Ohio, Roberts, 27, attended Div. II Ashland University in Ohio, where he hit marks that made every Div. I track powerhouse regret not recruiting him. As a sophomore, he set the all-time Div. II record, and it was the second-longest throw by a collegian that year. He finished second to Whiting at the USA Indoor Championships in 2014.
Win or not, he has no doubt he'll enjoy his trip to Lawrence.
"It's a blast," Roberts said.