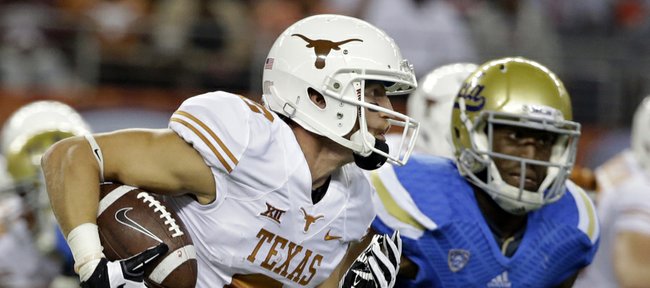 For just the second time in the 13-game series history between the Kansas University and Texas football programs, it's the Jayhawks (2-1) who take a better record into their match-up with the Longhorns.
It's hard to say that KU's one-game edge over the Longhorns (1-2) just four weeks into the 2014 season means much, but it begs the question is Kansas catching Texas at the right time?
KU coach Charlie Weis and his two coordinators, Clint Bowen and John Reagan, were asked that very question during Tuesday's meeting with the media, and while their answers shared a common theme, it's safe to say that none of the three believe Texas is vulnerable entering Saturday's 3 p.m. showdown at Memorial Stadium.
"I would rather have played them three weeks ago," Weis said. "As early as possible."
Reagan agreed and even went back a step further.
"You feel good that you are getting them early because maybe they aren't settled into a routine," he said. "With that being said, maybe it would have been nice to play them for the spring game and be done with them."
So far this season, the Longhorns have been anything but the big, bad Texas program that the Big 12 has come to know. First-year coach Charlie Strong, hired away from Louisville in the offseason to replace longtime UT coach Mack Brown, has endured a rough transition period fraught with new systems on offense and defense, unexpected losses, a handful of lengthy suspensions and even a few outright dismissals.
The UT offensive line alone is operating without three projected starters, both tackles and a center.
"It's a totally different line than we've seen from Texas the last couple years," Weis said. "And I think they're just trying to get settled in at that position. I feel their pain."
All that turmoil, as well as Strong's adjustment to a new style of play in the Big 12, make now as good a time as any for Kansas to play the Longhorns, particularly at home on homecoming weekend.
"There are some growing pains with a new staff that are just inherently there," Bowen said. "I don't know if it is good or bad (for Kansas), but coach Strong, coach (Shawn) Watson and coach (Joe) Wickline are highly respected men and very good football coaches. These guys are really good and they know what they are doing. Their kids are playing hard and lined up right and playing sound, but inherently every time there is something new you have to work through some kinks."
Despite a few things seeming to fall in KU's favor, Weis has made it abundantly clear this week that the Jayhawks will have to play a nearly flawless football game to emerge victorious. He's also certain that, new coach or not, suspensions or not, early in the season or not, the Jayhawks have not put much on film that figures to have UT's players and staff that worried.
"They're sitting there and saying, 'And this is who we're playing next?'" Weis speculated. "I would think that after watching those two games (SEMO and Duke) and then having a week and a couple days off or something like that, they feel pretty good about rolling into Lawrence for the start of their conference season."
A little help from his friends?
Weis and Mack Brown have been friends for a long time and foes only a few times in their careers. It makes sense, then, to wonder whether the two exchanged information this week about Weis taking on Texas for the first time without Brown on the opposing sideline.

"I had a couple of humorous texts with Mack this week on that subject," Weis joked. "But I wouldn't make that call. Everyone would think I should, but I would not make that call. Now, I gladly would take his call, OK, but I wouldn't make that call because I think that you're putting somebody on the spot, and you're asking him to do something uncomfortable. But if he wants to call me, he has my cell phone."
Depth chart changes
There were a few minor tweaks to the KU depth chart this week, but none involving any starters.
Junior wide receiver Nigel King is now listed as the primary back-up behind Justin McCay and Tony Pierson; sophomore wideout Tre' Parmalee is back on the depth chart behind Nick Harwell after recovering from an elbow injury; Jordan Shelley-Smith is listed as the No. 2 left tackle behind Pat Lewandowski; and freshman Jacob Bragg is listed as the No. 2 center beyond Keyon Haughton.
Weis said Bragg's inclusion on the depth chart was due to an illness suffered by regular Haughton back-up Joe Gibson.
O-Line update
Speaking of illnesses, Weis did not know on Tuesday whether senior guard Mike Smithburg (appendectomy) and junior Damon Martin (illness) would be able to play Saturday vs. Texas.
"We could have neither, we could have one, and we could have both," Weis said. "I would hope to have at least one of them back because I think that if I had one of them back, I would probably play them at right guard and keep Larry (Mazyck) at right tackle. If I had both of them back, they would both start at right guard and right tackle."
Keeping it physical
Last week, Weis said practices leading up to the Central Michigan game would be significantly more intense and physical than what the Jayhawks were used to during the first couple of weeks of the season.
He liked the results of that kind of preparation so much that he plans to keep it that way for the foreseeable future.
"If you're asking if we're going to pull off, not a chance," he said. "I'm a very superstitious person. I think the physical practice helped us last week.... If we don't bang Tuesday and Wednesday, then we won't be ready to play Texas on Saturday."