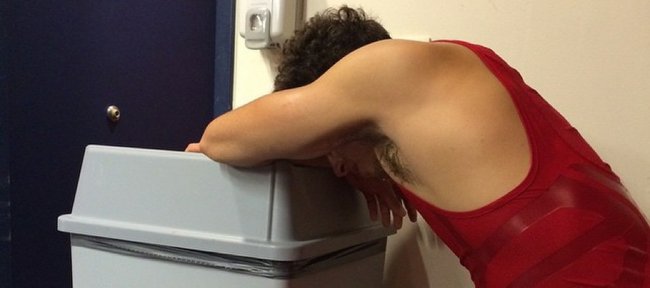 The agony of Kansas University Basketball Boot Camp 2014 is being captured daily by junior forward/unofficial team photographer Jamari Traylor, who has been posting "Dead Man of the Day" pictures on his Instagram account following 6-7 a.m. conditioning drills in Allen Fieldhouse.
Those caught on tape have included Christian Garrett with his head in his hands leaning on a trash barrel in the locker room; Devonté Graham, Conner Frankamp and Josh Pollard stretched out on the carpet in the locker room; and Perry Ellis catching a nap outside his dressing stall.
"I help him find them (pictures) because there are some days where you can't help but just lay on the floor or crash," sophomore guard Wayne Selden Jr. said Thursday.
"I try not to be the victim of any (snapshots)," Selden added, smiling.
Of the first week of two-week Boot Camp, Selden said: "We are doing a lot better than I expected. Having a lot of new young guys and a lot of new faces and a lot of young returners, you never know what to really expect from the standpoint of waking up so early and being mentally tough. We're doing better and better every day."
Selden thinks Boot Camp serves a good purpose.
"From a standpoint of being in shape is just a small portion of it. Then you've got the mental-toughness part of it. That's the biggest thing," Selden said. "Seeing who can fight through it. If you fight the toughest battle before the season starts, when the season comes everything else is going to be easier."
Graham, a freshman point guard, pinpointed the hardest conditioning drill: "Figure-8 close-outs. You run up, close out; have to go again, close out; slide halfcourt, close out," he said.
Graham said KU's Boot Camp veterans have helped the freshmen by advising, "to just go hard because that's all the coaches look for, for you to go hard. They know we are going to mess up because we are freshmen. We don't know what we are doing. If you go hard, if they see you are bringing a lot of energy, talking, especially as a guard, they tell me to talk a lot and things like that."
Graham on freshman Sviatoslav Mykhailiuk, 6-8 from Ukraine: "He is getting there. It takes time to come in, be thrown into a situation like this. He is going to be real good for us. He can shoot the ball really well. We've just got to teach him to talk more, pretty much."
Selden on his health after offseason knee surgery: "I'm fine. It's Boot Camp, so you are going to be tired, but I'm fine. I haven't really jumped a lot lately. We've been playing pick-up, and I've not really been trying to jump too much, but, yeah, I feel pretty bouncy, more than last year."
Selden on competition in the backcourt: "We have a lot of good guards. We have seven guards that can potentially start," he said of himself, Graham, Brannen Greene, Frankamp, Frank Mason, Mykhailiuk and Kelly Oubre, Jr.
And Selden on whether any players have "hit the trash can" yet during Boot Camp. "Hit 'em, you mean throwing up in 'em? Nobody yet. I'm staying away from them."
This, that: After four seasons, KU's men's basketball locker room, lounge and locker room hallway are receiving a bit of a face lift with some new pictures and illustrations of former players and KU's current NBA players included. ... Cheick Diallo, a 6-9 senior center from Our Savior New American High in Centereach, New York, is expected to start his weekend visit to KU today. Diallo, who is ranked No. 6 in the Class of 2015 by Rivals.com, will visit Iowa State on Sept. 26 and St. John's on Oct. 18. He's already visited Kentucky. Pitt and St. John's are also on his list. The Bamako, Mali, native is known as a great shot blocker. ... No. 14-rated Carlton Bragg, 6-9 forward from Villa Angela St. Joseph High in Cleveland, had an in-home visit with Kentucky on Wednesday. "Cal (John Calipari) stated that Kentucky is not for everyone," Michael Graves, Bragg's mentor, told Zagsblog.com. "It's going to be tough. Carlton will get a great education, be in the best shape of his life and be developed."