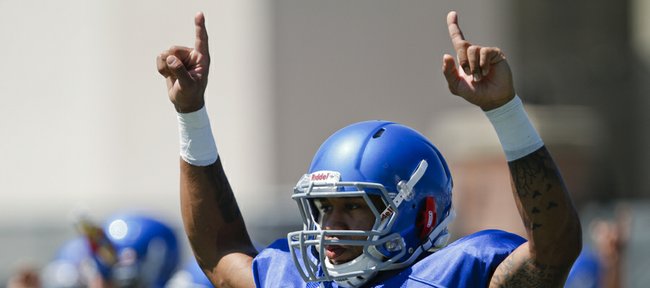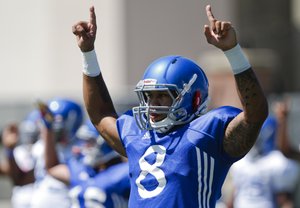 Kansas University wide receiver Nick Harwell has a history of big games against Central Michigan.
But that smile on Harwell's face was not there because of his combined 19 catches, 312 yards and two touchdowns in two career match-ups with the Chippewas while playing at Miami (Ohio).
No, that smile is always there, whether after a two-touchdown outing in his Kansas debut or before what, all of a sudden, has become the biggest game of the season.
"I've got great mojo going against anybody," said Harwell on Wednesday, not deterred one bit by last week's two-catch, nine-yard afternoon in a 41-3 loss at Duke that, according to KU coach Charlie Weis, was more a product of the Jayhawks' poor quarterback play than Duke's defense.
Harwell is seasoned enough to know that what he did against CMU in 2010 — 97 yards and a touchdown on eight catches — or against the Chippewas in 2012 — 215 yards and a touchdown on 11 receptions — does not have any bearing on Saturday's 2:30 p.m. kickoff at Memorial Stadium against the same school. The mascot and colors might be the same, but this is a different deal altogether.
Different school. Different offense. Different quarterback. Different CMU defense.
So, no, Harwell will not put particular stock in trying to think back to what worked last time he faced the Chippewas. But he does remember.
"I was for real zoned out," he said of that 215-yard day he had as a junior. "I feel like I kind of blacked out a little bit and was going based off of what I know. I don't remember what routes, I just remember I couldn't drop anything that day."
He also remembers the first meeting in 2010. Perhaps even better.
"That was my first college touchdown," he said with a squirm and a smile. "In the right end zone. I remember that like it was yesterday."
It must seem that way. Harwell likes to watch his own highlights perhaps as much as any player on the KU roster. But not because he's an egomaniac and not even because he has more highlights to watch than most of his current teammates. Instead, he reviews the old footage as a way to get his mind right for his next game.
"I watch most of my highlights before every game, just to envision myself catching the ball," he said. "It's broken up into games. I watch the most recent ones first, but I go back and watch my best ones often."
Harwell said that 2012 game against Central Michigan ranked third on his personal list of career bests. And his criteria are simple.
"I go by yards," he said. "Yards and catches."
Through two games with the Jayhawks, Harwell has logged six receptions, 55 yards and two touchdowns. Decent numbers, if you ask him. But he insists there's better production ahead.
"I feel like we can do more," he said of the KU receivers. "We haven't gotten as many balls as we expected the last two games, but I feel like we can definitely produce more. I'm very confident in how we play. We have very (few) dropped balls, and if we just continue to catch most of what's thrown to us, then we'll do well."
Shepherd makes CLASS cut
KU senior JaCorey Shepherd on Thursday was announced as one of 30 finalists for this year's Senior CLASS Award, given annually to student-athletes who excel both on and off the field in collegiate football. Shepherd, a cornerback from Mesquite, Texas, is the first Jayhawk to crack the final 30 since Darrell Stuckey in 2009 and is one of five players representing the Big 12 Conference.