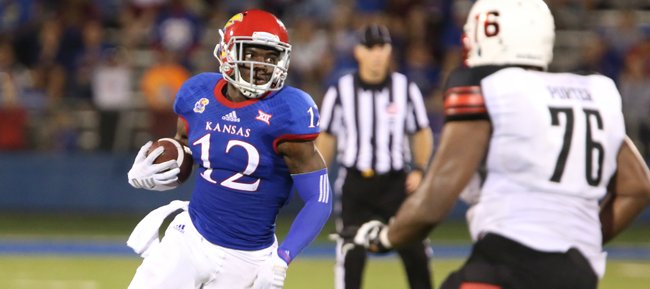 A breakdown of today's Kansas-Duke football game.
Three keys for Kansas
Secondary's revenge
While last week's less-than-stellar fourth quarter by the KU secondary was done and forgotten by Sunday night, the KU defensive backs still seem to be searching for atonement heading into this one. As senior cornerback JaCorey Shepherd said, "We know we're better than that." Being better than that will be crucial this afternoon, as the Jayhawks face a veteran quarterback in Duke senior Anthony Boone, a potent passing offense built by Duke coach David Cutcliffe and a proven and talented crop of wide receivers, led by ACC record-holder Jamison Crowder and 6-foot-6 matchup nightmare Issac Blakeney. Senior cornerback Dexter McDonald had a fantastic game last week to lead KU to victory, but he's going to need some help in this one.
Hit a few deep balls
KU quarterback Montell Cozart was probably a foot or two combined from throwing for five or six touchdowns in last week's victory over SEMO instead of just three. That's how close he was on a few deep balls that landed just out of the reach of KU's wide receivers. With teams likely to continue to play press coverage and clog things underneath until Cozart proves he can connect on the deep ball, hitting one over the top early would go a long way toward elevating KU's confidence and loosening up the Duke defense. Look for junior Rodriguez Coleman, who did not dress for last week's game but is expected to play today, to have a significant role.
Score and keep scoring
Duke has weapons. And its experienced offense will be comfortable playing at home. So, naturally, it will be key for the KU defense to try to make the Blue Devils work for everything they get. That said, one of the easiest ways to put pressure on the Duke offense is for the Kansas offense to score a bunch of points and never let up. The more times KU can cross the goal line, the more pressure Duke may feel to keep pace. And if things work out that way, it could play right into the hands of the KU defense by making a typically balanced Duke offense a little more predictable.
Mega matchup
Kansas WR Nick Harwell vs. Duke CB Jeremy Cash
Harwell, who finished with 46 yards on four receptions last week, got open a lot in KU's opener and was able to snag two first-quarter touchdown passes. The two already have great chemistry, and there's no question that the Jayhawks will try to find ways for Harwell to get open all over the field. One of the biggest areas to watch will be on crossing routes over the middle, where Harwell can get open with help from other Jayhawks while Cash tries to keep up. Cash is a veteran, though. He's been in the program for four seasons and logged 16 starts, including all 14 games during last year's 10-win season. Whether in the flat, over the middle or on deep routes, the chess match between these two should be fun to watch.
Five questions with junior safety Isaiah Johnson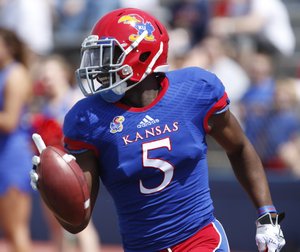 1 Growing up in Cary, North Carolina, which sits just five miles outside of Durham, did you find yourself rooting for any of the Carolina colleges?
"I was actually a Rutgers fan because I lived in New Jersey and didn't move to North Carolina until my 8th-grade summer, so I've always been a Rutgers fan. It was already in me."
Johnson said 27 family members would be at today's game.

2 What's the first thing that comes to mind when you think about Duke?
"I used to go to their games a lot in high school and I was recruited by them so I know a few of the guys on their staff including the head coach, (David) Cutcliffe. It's just a blessing to be able to go out there and play against Duke after growing up watching them."
3 What's your biggest concern about what happened in the fourth quarter against SEMO?
"Nothing really. Plays just happen like that. We just have to bounce right back and I think we have. Nothing really fazed me about that fourth quarter. We'll be fine."
4 You led the team with 5 interceptions last season. Dexter McDonald already has two. Any competitions between the DBs to see who can get the most?
"We talk about it sometimes. I joke with Dex and tell him he's not gonna beat my five, but I'm proud of him. He's doing a great job along with the rest of the DBs. We're all just looking forward to getting as many interceptions as we can and making big plays for the team."
5. What's been the best motivational tool you've seen or used to help KU put an end to its 27-game road losing streak?
Probably (strength coach Scott) Holsopple putting up signs and things in the weight room. He puts pictures of Iron Warriors up and puts pictures of our faces on them. He's always just trying to have us motivated to end the streak. We have a Jayhawk in the locker room that's made up of tiles and one of the tiles isn't on there and Holsopple said if we get the road win, we get to place the tile down so that's motivation right there for us."
Jayhawk pulse
For one quarter of the 2014 season opener, things could not have gone much better for the Jayhawks. Four scores from the offense. Five three-and-outs and no first downs from the defense. A 24-0 lead. Players and fans riding high at Memorial Stadium. But then the Jayhawks let up and watched Southeast Missouri State outscore them 28-10 the rest of the way. Thus, the night finished with a lot of grumbling and a bunch of questions. A win is a win, though, and KU coach Charlie Weis said this week that by Sunday night the team had moved on to preparation for Duke and learned and grew a lot from the mistakes and missed opportunities.
Tale of the Tape
KU run game vs. Duke run D – advantage KU
KU pass game vs. Duke pass D – Push
Duke run game vs. KU run D – advantage Duke
Duke pass game vs. KU pass D – advantage Duke
Special teams – advantage Duke