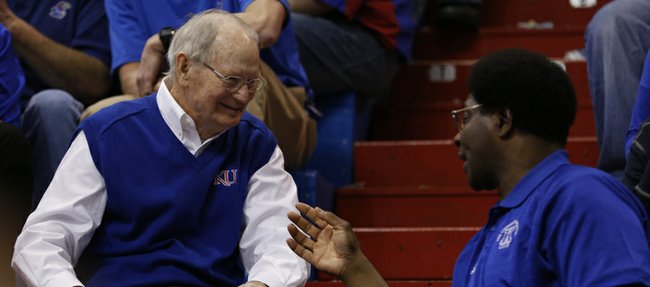 Kansas University's Allen Fieldhouse has changed quite a bit since Ted Owens patrolled the home team's basketball bench from 1964 to 1983.
"We are going through a big transition of that building physically," said the 85-year-old former KU coach, whose squads went 206-47 in Allen in 19 seasons.
"When I first arrived, we had a big mat up around the court and a dirt track. The basketball team was working out. The track team was working out. Every once in a while in bad weather the football team would come in," Owens reflected. "We'd have to water the track several times and sweep the court several times during practice to keep the dust down. On game night, it was a special place."
Other nights, too.
"I went to Bob Hope, Andy Williams, James Taylor, Harry Belafonte," Owens said of comedy and music shows. "Those were all big events. The acoustics back then were not the world's greatest for those. They were still special."
At 7:30 p.m. Monday, four hoops coaches who represent 51 of the 60 seasons in Allen Fieldhouse will reunite to pay homage to what's been called the most storied hoops edifice in America. ESPN's Jay Bilas will host "Celebrating 60 Years," which current KU coach Bill Self has called a "rap session of sorts" featuring Owens, Self, Larry Brown and Roy Williams.
More coverage of 'Celebrating 60 Years'
Williams' KU squads went 201-17 in 15 seasons in Allen, while Brown's teams were 71-5 in five seasons. Self has a 175-9 mark through 11 campaigns.
"Having all four of the living (KU) coaches back is pretty neat, particularly with how busy Bill, Roy and Larry are. It makes it pretty special," said Owens, acknowledging the current, KU, North Carolina and SMU coaches are in the process of preparing their teams for the 2014-15 season.
"It's certainly going to be wonderful to come back and share an evening of memories with the fans and players. I had a call from some players already who are planning to be there. My hope is a lot of the players come back. They play the most important role of all," Owens added.
As far as Owens' favorite games in the building, he tends to recall some fierce Big Eight battles.
"There are so many special times and special nights. Back then, Kansas State was really good, so the Kansas State game," Owens said. "Later, when Norm (Stewart) came to Missouri, Missouri became much better. Nebraska was awfully good back then. Those were huge games. It was just a thrill to walk through that tunnel onto the floor and in front of what I consider the greatest fans in all of basketball."
Though 50 tables on the floor level sold out in one day, thousands of tickets remain available for what Self calls "as classy and as historical a night that we could ever have to pay homage to a building that's been so special to so many."
Tier 1 seats are $60 each (limited lower level and chairback seating); Tier 2 is $40 (2nd level bench seating); and Tier 3 is $25 (3rd level bench seating). K-Club member tickets are available at $25 (located in Tier 2 seating). KU students may purchase a maximum two tickets at $15. To buy tickets, go to 1-800-34-HAWKS or kuathletics.com.
Diallo visits St. John's: Cheick Diallo, a 6-foot-9 senior power forward from Our Savior New American High in Centereach, New York, who is ranked No. 6 nationally by Rivals.com, took his final official visit (to St. John's) last weekend. He has visited KU, Kentucky, Iowa State and Pitt. Zagsblog.com says Diallo will wait until spring to choose a school.
"The St. John's visit went well," a source close to Diallo told Zagsblog.com and SNY.tv. "The kid enjoyed the moment."
Nickname: Former KU guard Andrew Wiggins and fellow Minnesota Timberwolves rookie Zach LaVine have nicknamed themselves "The Bounce Brothers."
"They have the Splash Brothers in Golden State (Steph Curry, Klay Thompson), so we're going by the Bounce Brothers," former UCLA player LaVine told nba.com.
Wiggins reports he has settled in Minnesota after being in limbo so long after the NBA Draft when it was rumored he'd indeed be traded from Cleveland to Minnesota.
"I'm situated in a spot perfect for me and I'm loving it," Wiggins said.
Roundball: Space is available at a pair of Roundball events sponsored by KU athletics and the Williams Fund featuring Self at 6:30 p.m., Nov. 12 at Maceli's and women's coach Bonnie Henrickson at 11:30 a.m., Dec. 17 at The Eldridge. To register, contact Megan McMullen of the Williams Education Fund at meganmc@ku.edu or call 864-3445.